সীমান্ধ্রের বনধ দ্বিতীয় দিনে পড়ল, ইস্তফা দিয়েছেন চিরঞ্জীবী
Hyderabad: Protests in Andhra Pradesh against the Union Cabinet`s approval to a draft bill for formation of separate Telangana state entered the second day on Saturday. Meanwhile, Tourism Minister Chiranjeevi resigned from his post in protest of the decision. "I expected to do some justice for both regions but I feel that it has not been done. I think this is the reason and I`m very much displeased," said Chiranjeevi.
Updated: Dec 7, 2013, 01:16 PM IST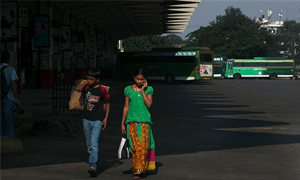 পৃথক রাজ্য গঠনের জন্য কেন্দ্রীয় বিলের বিরোধিতায় অন্ধ্রের প্রতিবাদ ক্রমশ চড়ছে। আজ সীমান্ধ্রার বনধ দ্বিতীয় দিনে পড়ল। কেন্দ্রীয় সিদ্ধন্তের বিরোধিতা করে ইতিমধ্যে পর্যটন মন্ত্রী পদ থেকে ইস্তফা দিয়েছেন চিরঞ্জীবী। পদত্যাগী মন্ত্রী বলেন, "দুটি অঞ্চলের জন্যই আমি বিচার চাইছি। আমার মনে হয়, ন্যায় বিচার হয়নি।"
বনধের জেরে রয়্যালসীমা ও উপকূলীয় অন্ধ্রর ১৩টি জেলায় স্বাভাবিক জনজীবন বিপর্যস্ত হয়েছে। অন্ধ্র রাজ্য পরিবহণ সংস্থার ১২,০০০টি বাস চলছে না। ফলে বিপদে পড়েছেন দুটি অঞ্চলের মানুষই।
বাজার, দোকান, স্কুল কলেজ সবই রয়েছে বন্ধ। এমনকী খোলা নেই পেট্রোল পাম্প। ওয়াই এস আর কংগ্রেসের ডাক বনধের জের বেশ কয়েকদিন ধরেই চলবে বলে মনে করা হচ্ছে।