New Delhi: One of the most sought-after actresses Rani Chatterjee is not keeping well since a long time. The actress took to social media to reveal about her ill health but now it seems that her pain has worsened.
Taking to Instagram, Rani shared a picture in which she can be seen crying. "Ab Dard nhi hota bardash..... Nt well crying, " the caption read.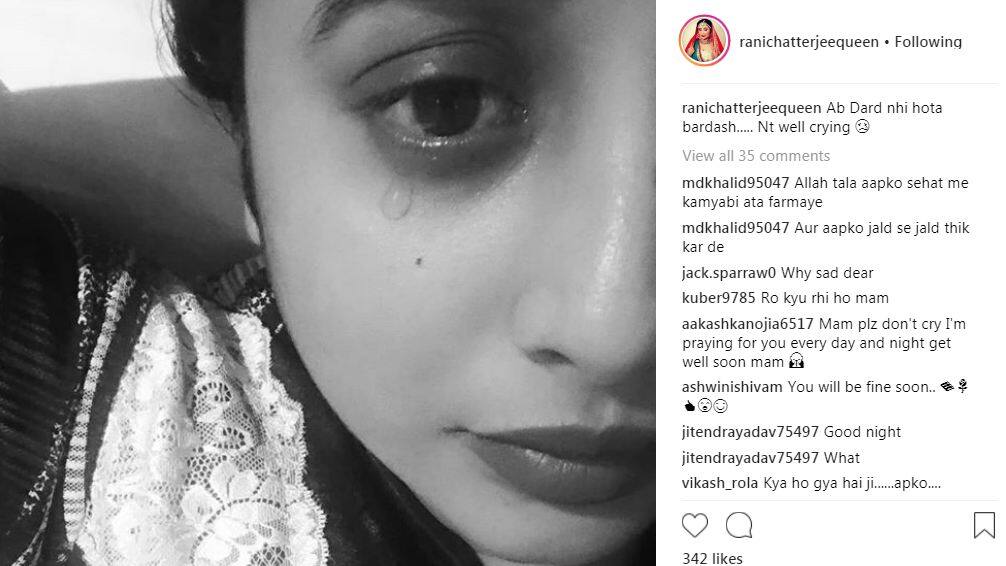 She was apparently shooting for Zero Banal Hero when she fell sick. She also thanked the team for giving her the much-needed break to recover. The aforementioned film is directed and jointly produced by Deepak Tripathi and Satyendra Shukla and Chandrakant Shukla respectively. 
'Zero Banal Hero' has been produced by Satyendra Shukla and Chandrakant Shukla. It is helmed by Deepak Tripathi.
The movie stars Sanjay Pandey, Aditya Mohan, Prashant Singh Chauhan, Anoop Arora, Samarth Chaturvedi, Sonu Pandey, Nagin Wadil, B R Shahu, Glory Mohta, Sudhakar Mishra, Shushil Kumar in pivotal parts.
Rani forayed into Bhojpuri film industry in 2004 with 'Sasura Bada Paisawala'. It featured Manoj Tiwari in the lead and was directed by Ajay Sinha. The film turned out to be a blockbuster hit at the Box Office and was also the highest grossing Bhojpuri film that year.