Ravana - the main antagonist of Indian epic – Ramayana – has been a character that generations of Indians have detested. He had deceitfully abducted Lord Rama's wife Sita and held her captive to lure her into matrimony.
So obsessed he was with the idea winning Sita's heart that he chose the path of self-destruction. This desire of his led to his downfall and this will keep reminding generations that good alone will survive and not the evil.
But there are a few interesting things about Ravana, that may surprise you. Here's taking a look at some of the amazing lesser known facts of Lankeshwar: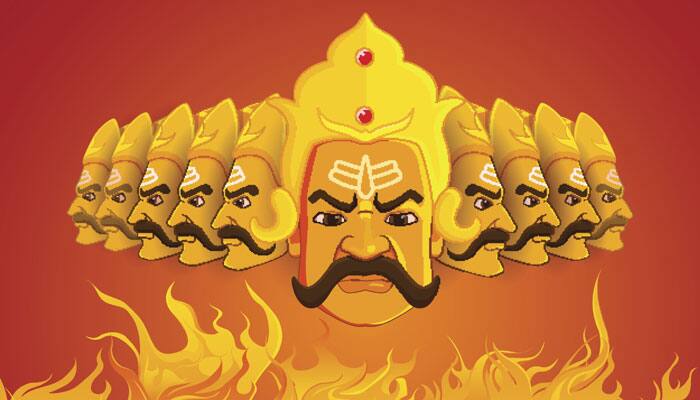 Ravana was half-Brahman and half-demon. He was born to Kaikasi (daughter of demon king Sumali and Tataka) and Rishi Vishrava.
He was the step-brother of Lord Kubera. Ravana was Kaikasi's son, who was Rishi Vishrava's second wife. Kubera's mother was Ilavida.
Ravana dethroned Kubera to crown himself as the monarch of Lanka.
He was named Dashagreeva or Dashaanana (demon with ten heads) during birth.
Ravana was a great patron of music. He was a Veena exponent.
He was a great devotee of Lord Shiva.
Ravana is believed to have participated in Sita's Swayamvar. He managed to lift the divine bow gifted to Lord Janak by Lord Shiva. But, it was no ordinary bow. He put it down as he couldn't muster the strength to lift it completely. Rama outshone Ravana by not just lifting the bow, but also pulling the bow strings with ease.
According to some legends, Ravana is believed to have performed a Yagna for Ram's Setu built by the Vanar Sena. He was the only greatest devotee of Lord Shiva and since he was a Brahmin by birth, he humbly performed the Yagna for Ram, despite the latter being his foe.
Ravana was a great scholar. He was a master of the six Shastras (Yoga, Nyaya, Dharma, Kama, Artha and Mokha) and the four Vedas (Rig, Sama, Yajur, Atharva).
Ravana was a great diplomat. He was a master of statecraft and knew how to manage a kingdom. It is believed that before breathing his last, Ravana imparted his knowledge of diplomacy to Lakshmana.
Ravana's kingdom extended beyond Lanka. The islands of modern day Bali, Malaya (Malaysia) and a few others were believed to be parts of his kingdom.