Celebrity Chef Nita Mehta cooked for us some exquisite and traditional Janmashtami recipes.
MAKHANE KI KHEER
Ingredients:
I kg full cream milk
1 cup crushed makhana
2 tsp pistachios
2 tsp almonds
Sugar to taste
Rose petals for decoration (optional)
Procedure:
Heat milk in a deep bottomed pan. When it begins to boil add makhana and keep stirring till the milk becomes half. Now add sugar and almonds and cook for a few more minutes. Remove from fire. Garnish with pistachios and rose petals. Serve chilled.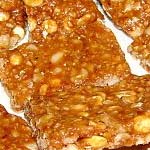 BHOG BURFEE
Ingredients:
1½ cup roughly grated and roasted kopra (dry coconut)
½ cup roasted water melon seeds
11/2 cup sugar
2 cups water
Procedure:
Make a thick syrup by heating together sugar and water on low flame. Now add coconut and watermelon seeds and mix well. Grease a dish, spread the mixture evenly and let it cool. Cut into diamond shaped burfis.