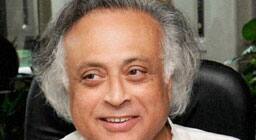 New Delhi: Concerned over the contamination of water by arsenic and other elements, the Ministry of Drinking Water and Sanitation has sought "greater convergence" with the Ministry of Health to deal with the menace.
Rural Development Minister Jairam Ramesh, who also holds the portfolio of Drinking Water and Sanitation, has written to Health Minister Ghulam Nabi Azad seeking "greater convergence" between two Ministries to prevent the water-borne diseases.
Armed with the increased budgetary support provided by Finance Minister Minister Pranab Mukherjee, Ramesh said that he would like to utilize the additional resources allocated to his Ministry on projects that deal with water quality issues.
"I would like to focus the additional resources we get sharply on projects that deal with water-quality issues like arsenic and fluoride contamination, that have public health
impacts as well as in areas where water-borne diseases like Acute Encephalitis Syndrome/ Japanese Encephalitis have assumed serious dimensions," the Minister said.
Recognising the importance of Rural Drinking Water Supply and Sanitation, Finance Minister Minister Pranab Mukherjee has made an allocation of Rs 14,000 crore for it in 2012-2013 as opposed to the allocation of Rs 11000 crore last year.
"I have been assured a substantial increase in the budgetary outlay for rural drinking water sanitation in 2012-13. I expect the momentum to be maintained thereafter as
well," Ramesh said in his letter.
Addressing the second meeting of the National Drinking Water and Sanitation Council here in February, Ramesh had said water quality will be the focus of the ministry of Drinking Water and Sanitation when it gets additional resources in the upcoming Union Budget.
When the menace of Japanese Encephalitis hit Gorakhpur district of Uttar Pradesh last year, Ramesh had said that his Ministry will work in coordination with the Union Health
Ministry and prepare an action plan to subdue the menace.
PTI