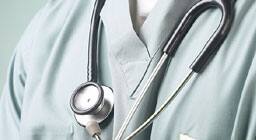 New Delhi: In order to overcome the human resource shortage in the health sector, the government has increased the number of medical seats at the post-graduate level in the past three years and has set up 46 new medical colleges, Union Minister for Health and Family Welfare Ghulam Nabi Azad said Friday.
Azad told a meeting here of the parliamentary consultative committee attached to his ministry: "In the last three years alone, the number of post-graduate seats has increased by more than 9,100. The number of post-graduate seats available in this academic year is 22,194 as against 13,043 in the year 2008-09."
According to the Health Ministry, the existing doctor-patient ratio is one doctor for 2,000 patients and the target is one doctor per 1,000 people. India has nearly 7.5 lakh registered doctors, of whom 5.5 lakh are in active service.
Apart from this, from 2009-12, 46 new medical colleges have been set up.
"These strides have been made possible because of the concerted efforts made by the ministry to facilitate and overcome the issue of shortage of human resources," Azad said.
The minister also said that the nursing profession is being given top priority and a series of initiatives are being taken to bridge the shortage of nurses in the country.
"The ministry has sanctioned, during the last two years, 132 Auxiliary Nursing and Midwifery (ANM) and 137 General Nursing and Midwifery (GNM) schools all over the country, particularly in the un-served and under-served districts. These 269 schools will produce an additional 20,000 nurses every year," Azad stated.
Azad recounted that to standardize paramedical education across the country, one National Institute of Paramedical Sciences (NIPS) is being set up at Delhi and eight Regional Institutes of Paramedical Sciences (RIPS) will be coming up at Chandigarh, Lucknow, Bhopal, Hyderabad, Coimbatore, Bhubaneswar, Patna and Aurangabad.
India at present has nearly 10 lakh registered nurses, of whom only 40 percent are in active service.
IANS