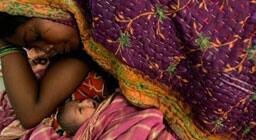 United Nations: India and Nigeria together accounted for a third of the deaths of pregnant women globally in 2010, latest UN figures said, even as maternal deaths declined by nearly half in the past two decades due to improvement in health systems and increased female education.
Globally, an estimated 287,000 women died in pregnancy and childbirth in 2010, a decline of 47 per cent from levels in 1990, with Sub-Saharan Africa and Southern Asia accounting for 85 per cent of the those maternal deaths, according to a report on trends in maternal mortality between 1990 to 2010 released by UN Population Fund (UNFPA), World Health Organisation, UN Children`s Fund and the World Bank.
At the country level, India and Nigeria accounted for a third of global maternal deaths, with India at 19 per cent (56,000) and Nigeria at 14 per cent (40,000).
The global Maternal Mortality Rate (MMR) in 2010 was 210 maternal deaths per 100,000 live births, down from 400 maternal deaths per 100,000 live births in 1990.
Another eight countries -- Democratic Republic of the Congo (15,000), Pakistan (12,000), Sudan (10,000), Indonesia (9,600), Ethiopia (9,000), Tanzania (8,500), Bangladesh (7,200) and Afghanistan (6,400) -- account for the nearly 40 per cent of the global maternal deaths.
The report said every two minutes a woman dies of pregnancy-related complications like severe bleeding after childbirth, infections, high blood pressure during pregnancy and unsafe abortion.
However there has been some progress in providing improved healthcare to pregnant women which has resulted in the deaths being cut by half over the past two decades, the report added.
"In addition to improvement in health systems, other factors outside the health sector such as increased female education and increased physical accessibility to health facilities could be contributory factors," it said.
The Millennium Development Goals report of 2011 indicates that improvement in the past two decades is also due to the proportion of deliveries attended by skilled health personnel in developing regions rising from 55 per cent in 1990 to 65 per cent in 2009.
Similarly, the proportion of women who were attended to by skilled health-care personnel at least once during pregnancy increased from 64 per cent to 81 per cent, while the proportion of women aged 15?49 years who use any method of contraception also increased from 52 per cent to 61 per cent.
More recently, the rapid roll-out of antiretroviral therapy in sub-Saharan Africa to HIV-positive women, from 10 per cent in 2000 to 55 per cent in 2010, improves the chances of surviving the additional demands of pregnancy.
"Improvement in the coverage of these health-care interventions over the past two decades may have contributed to improved outcomes. However, disparities exist, within and across regions," the report said, adding that Eastern Asia, which experienced the greatest MMR decline, has a contraceptive prevalence rate of 84 per cent as opposed to only 22 per cent in sub-Saharan Africa, the region with one of the lowest MMR declines.
"Efforts to improve maternal health and reduce maternal deaths should be focused on addressing inequalities across and within countries," it said.
Of the 180 countries and territories that were covered in UN analysis, between 1990 and 2010, 154 countries experienced total MMR percentage declines, while 26 countries had an increase.
Notably, 10 countries have already experienced 75 per cent reduction in MMR between 1990 and 2010, much earlier than the target year of 2015.
These countries are Estonia (95 pc), Maldives (93 pc), Belarus (88 pc), Romania (84 pc), Bhutan (82 pc), Equatorial Guinea (81 pc), Iran (Islamic Republic of) (81 pc), Lithuania (78 pc), Nepal (78 pc) and Viet Nam (76 pc).
PTI