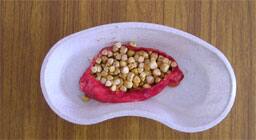 Erode: A surgeon at a private hospital here has claimed to have bettered a Guinness Record by removing a whopping 4,294 gallstones totally weighing 300 grams from the bladder of a 63-year old man.
The laparascopic surgery was performed recently on Duraisamy, a retired Village Administrative Officer, who had complaints of back pain.
A scan revealed the presence of gallstones in the bladder and the patient was advised to go for surgery during which 4,294 small gallstones were removed, Dr T K Swamy said.
The patient is keeping good health now.
Swamy claimed removal of 4,294 stones from the bladder was a Guinness record. Earlier, in Germany 3,110 stones were removed from the bladder of a woman.
He said he would approach Guinness Records for entry of his feat.
PTI