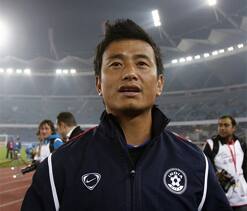 Sidhanta Patnaik
To write about a sport and its personalities, the mandatory requirement is to have an understanding of the game's eccentricity. But every now and then, the norm is broken when a larger than life player transcends the pursued sport itself. A player whose influencing personality holds some meaning in the life of players and fans of the game, and even in the life of those who do not follow that particular sport. A player whose impact is felt when a politically fragile region of the constitution is debated about, a player who is more than just a player. Baichung Bhutia, the footballer is one such player.
On Tuesday, January 10, 2012 as the referee blew the final whistle at full time of the friendly match between India and Bayern Munich, it was not the end of just another football match. It was that moment when reality and illusion would have shared a fraction; it was that moment when standing on the turf, Bhutia would have looked at his India jersey one last time. It was that moment which is now historically etched as his. It was that moment when on a rare occasion, outside cricket, science, music and Hindi films, this diversified nation commonly clapped and acknowledged the contribution of an Indian great. It was that moment which gave a conclusive shape to the career graph of a risk taker who had defied odds much before the Indian economy had opened up to foreign products. More importantly it was that moment which portrayed this nation's continuous wonderful ability to unearth jewels from any corner and nurture them to finality. But then, the moment was more than just a moment. Another character was added to the notion of legacy.
India's obsession for hitting a ball with a piece of wood is well documented so is monopoly's hazardous effect. Exclude a few pockets from the Indian map and the story was similar across the region – field hockey had faded for its own fault, lawn tennis was too elitist and individualistic and other sports never had serious relationships, either because of affordability issues or lack of exposure or their inability to engage a group rather than a few individuals. Then there was the case of football. Being the cheapest ball sport on earth, it was best suited as an alternative to challenge cricket's monopoly, but the country's love for lethargy kept the interest for it restricted. There were many popular players whose tales are still narrated in the by lanes of their clubs, but unfortunately their inspirational value was limited to a handful of cities.
Maybe it was a matter of getting the timing correct. Maybe there was lack of media exposure. Maybe it was a matter of one exceptionally talented individual taking that quantum leap of faith and bursting into the national scene. Maybe it was about that individual opening the nation's eyes to the game's global enamour. Baichung Bhutia was destined to be a path breaker. Today he is the trend setter.
As much credit goes to the Star Sports for fuelling the aspiration of the new era Indian kids by bringing English Premier League (EPL) matches into the living rooms around the mid 1990s, that much recognition is also Bhutia's. In 1999 when he became the first Indian to play professional football in Europe, impulsively the following for the sport beyond the World Cup peaked in India. Everyone was suddenly curious to understand the mechanism and the possibilities of an Indian playing a sport apart from cricket for another team in another land and getting paid for it. Today Manchester United has more than one cafe-bar in India, Nike is continuously investing in Indian football through its various initiatives, an Indian corporate is holding interests in an EPL club, an Indian was till recently employed in Liverpool Football Club's commercial department, another Indian television channel has bought the rights for other European leagues. To derive Baichung Bhutia's overall rub on effect on an Indian's psyche and his space in the country's sociology is an easy task.
Bhutia persisted with his belief, withstood all the challenges of a cynical environment and made a name for him internationally. To do that, it requires simple plain guts. If not for anything but for it, he is more than just a footballer. He is another shape of heroism.
Football as a television sport has started competing with cricket. Bhutia has broken the first ice, but there is so much an individual can do. More people have to be engaged in playing the sport both at an amateur and professional level. As always the onus is entirely upon All India Football Federation and its network of media, sponsors, officials, coaching staff and fans to take cues from a single source and ignite more sparks of magic. Only then can professional as a word can sit alongside Indian football.
As the final whistle for this piece gets blown, respect is the single word that comes to the mind.
(Sidhanta Patnaik is a sport marketing professional, public speaker and writes for Cricketcountry. His twitter id is @sidhpat)