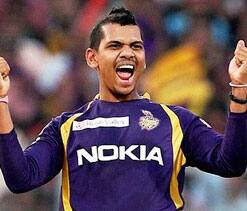 Biswajit Jha
After four years' of despair, disillusionment and despondency, IPL franchise Kolkata Knight Riders are finally just one match away from clinching the IPL title. Unlike the previous years, KKR have mostly been in the news for cricketing reasons. They were led from the front by Gautam Gambhir and ably supported by Brendon McCullum, Jacques Kallis, Manoj Tiwary, L Balaji and Shakib Al Hasan. But the real impetus has come from a little known Indian origin West Indian Sunil Narine. The mystery spinner has wreaked havoc on all the opposition batsmen. He, along with Gautam Gambhir, virtually helped KKR reach the final.
Also read: Last three standing » I KKR's road to final » I Also read: Men behind KKR's successful journey this year…» I Sunil Narine Kolkata's mystery man»
It's seems Kolkata Knight Riders management has a penchant for the 'mystery' spinners. First, it was Sri Lankan Ajatha Mendis, who played for them in the first and second and editions. And now, West Indian Sunil Narine. But unlike Mendis, Narine set the IPL 5 on fire and led Bollywood superstar Shah Rukh Khan owned team to the final almost single handedly. He bamboozled the best of the batsmen with the new ball. Even the great Tendulkar failed to 'read' his ball and got bowled. He was equally threatening with the old ball. He was hardly taken to the cleaners in any of the matches. He contributed in every victory KKR registered in this season of IPL.
The Trinidadian Narine, who held the `Purple Cap` briefly, has taken 24 wickets in 14 matches, and those wickets came at an enviable average of 11.95 and by far has been the best spinner, if not the best bowler of IPL 5. Not just his number of wickets, but the number of runs he conceded is also amazing. He has just given away 5.20 runs per over in a format where an economy of 7 per over is considered to be reasonable.
Before the IPL, the spinner had the Australian batsmen in trouble in the ODI series that he played just before the IPL. Some of the Australian batsmen openly admitted their inability to 'pick' him properly. Seeing him bamboozle the batsmen, most of the West Indians back home are, ruing his absence from their squad that is touring England currently.
But what makes him a special commodity? KKR coach Travor Bayliss puts it like this: "He is one of the mystery spinners. That, combined with accuracy and a bit of extra pace, has made him more than a handful. Even if you`re lucky to pick the ball he has bowled, there`s no guarantee that you`ll actually get him away for runs. More the batsmen play him, more the chances of picking him, but Narine has it in him to stay one step ahead. He`s such an unbelievable talent."