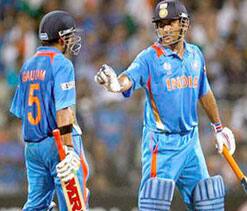 Biswajit Jha
Ever since Gautam Gambhir led Kolkata Knight Riders (KKR) to an amazing victory over Mahendra Singh Dhoni's Chennai Super Kings in the final of IPL 5, calls for Gambhir to take over the Test captaincy have gained momentum. Bit odd it may sound, but it is the case. Gambhir was down and out after two harrowing Test series abroad and was duly replaced by Virat Kohli as the vice-captain of Team India. But, after leading KKR to IPL glory, he has again staked his claim as the man to replace Dhoni, who looked out of sort as a skipper in the two devastating series in England and Australia.
Whatever one has seen of Gambhir so far, he looks like a good captain. He is aggressive, leads his men from the front, and backs them to the hilt. By his own admission, he knows what insecurity does to a player, and so tries to address the issue by creating an atmosphere inside the team where everybody feels secure. No doubt, this is another very good quality the Delhi lad possesses. A player, who is not out and out talented, and who had to fight really hard to cement his place in the team, should be a better captain than someone who knows very little about failure.
Despite having scored heavily in the first class level, Gambhir remained in and out of the team. It was not until 2007-08 that he finally established himself. He knows how difficult success comes in international cricket and does not want to fritter it away. The ruthlessness of Gambhir on the field comes from this very fact that he understands that there are no free meals in international cricket. The fundamental difference between Gambhir and Dhoni emanates from this very fact.
For Gambhir, winning is everything. He can go any distance to win a cricket match. Like his batting, he subscribes to the theory of 'winning ugly' when he leads a cricket team.
Dhoni, on the other hand, has his own qualities. His capability to remain cool under tremendous pressure is unique in itself. The way he confronts challenges, the way he delivers the knock-out punches in crunch situations testifies the inner grit that he successfully hides on the cricket field. His statesman like demeanor on and off the field earns respect and makes him a leader of a national team. His sportsman spirit allows India to become a perfect team to dominate the world without being arrogant.
Is Dhoni not as ruthless as Gambhir? The approach may differ but the fact is that Dhoni is equally brutal as a captain. One may argue that he is not as attacking in Tests as he is in ODIs and T20s, but his brand of captaincy has worked in Tests too. Apart from the last eight Tests in England and Australia, Dhoni also did well as a Test skipper; even leading India to the No. 1 rankings for the first time.
Team India's abject surrender in the last two Test series was due to their batsmen's utter inefficiency against fast, short and moving balls, and not because of their captain. No captain in the world, not even the legendary Mike Brearley, could have saved them the blushes. Apart from Rahul Dravid in England, no Indian batsman has done well in Tests, not even the man-in-demand Gautam Gambhir.
The English and Australian bowlers repeatedly took advantage of his technical deficiency against fast rising balls outside the off-stump. In eight Tests, which India lost and which have put a question mark over Dhoni's credibility as a Test skipper, Gambhir has scored just one fifty, an 83 in the second innings on a batting friendly Sydney pitch. It looked intriguing but Virat Kohli's elevation as the vice-captain in place of Gambhir in Asia Cup that followed after the Australian tour was not without logic, for he was the only Indian to score a Test ton, while both the future captains-Sehwag and Gambhir- struggled terribly.
Though it would be very foolish to compare opener Gambhir's batting with that of wicketkeeper-batsman Dhoni, who comes to bat at No. 7 and has another important role as wicketkeeper, in that respect too Dhoni has bettered Gambhir with three half-centuries with two scores of 70s in Birmingham Test and one unbeaten half-century at Sydney.
Should Dhoni be replaced as the Test skipper only because of the abject failure of the batsmen in the team? Should he be punished for his team's failure? India won't be playing Tests outside the sub-continent before December 2013, which will be a perfect cakewalk for them. Dhoni or Gambhir, whoever captains India, will, in all probability, lead India successfully. But can the change in leadership guarantee India's change of fortunes, especially on bouncy tracks and swinging conditions?
As Gambhir says, a captain is as good as his team. We should rather try to improve our team than engaging ourselves with the debate of captaincy. What are the reasons that our youngsters can't play short balls? Why can't we produce a fast bowler who can play international cricket for two full seasons? Why can't we find a single quality spinner to replace Harbhajan Singh? Unless we find answers to these questions, Team India's woes will continue…