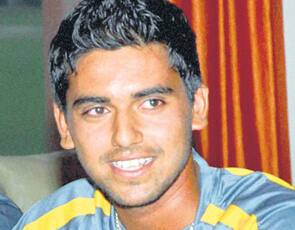 Biswajit Jha
Debutant fast bowler Deepak Chahar may have brought the beleaguered Rajasthan cricket to the limelight again with his remarkable feat that saw Hyderabad face the ignominy of registering the lowest ever total in the history of Ranji Trophy, but two years ago the boy wonder found himself in distress after being excluded from both the Rajasthan Under-17 and Under-19 teams.
The rejection, however, could not deter the 18-year-old from making the stride forward. It rather rekindled his dream of making it to the Rajasthan Ranji team and subsequently win the coveted India cap. Putting the disappointment behind him, Deepak worked extremely hard and compelled the selectors, who had once refused to take him seriously, to select him in the Rajasthan Ranji squad for the present season.
Talking exclusively to Zeecric.com, Chahar said: "I was disappointed when I found myself out of the team two years back. It was surprising for me. But I worked really hard during those years that helped me make it to the Ranji squad."
When asked about the reason behind his exclusion, Chahar said that he still does not know the exact reason but reluctantly added that there may have been some politics behind it. "I don't know the exact reason…I don't want to comment…there may be some politics behind it," said the cricketer, whose devastating spell of 8/10 helped Rajasthan skittle Hyderabad out for a humiliating 21 runs, the lowest ever Ranji total.
Deepak, who is a natural out-swing bowler, instantly caught the eye of former India opener Aakash Chopra, who had just shifted to Rajasthan from Delhi a couple of months back. After witnessing the entire drama unfold in front of him on the opening day of the 2010-11 Ranji season, an excited Aakash told Zeecric.com from Jaipur, "Someone asked me on Twitter in September when we were playing in the Buchi Babu if I saw any upcoming talent. I had no hesitancy in naming Deepak as I liked his attitude towards the game on the very first occasion that I saw him."
"He is the kind of cricketer who will make things happen rather than wait for it. You need not throw the ball at him. He will snatch the ball from you. No doubt he is a great prospect who reminds me of Manoj Prabhakar. Like Prabhakar Deepak can swing the cricket ball both ways," Aakash says.
Deepak, whose father took voluntary retirement from the Indian Air Force to give him more time to hone his skill, gave all credit to the man who also happens to be his first coach. "My father sacrificed a lot for me. It's because of him that I have reached here," Deepak said.
"But like any cricketer, I have had more than one coach. Different people helped me at different times and in different ways. I started under Ranjit sir…when I did not get a chance to represent any state team, Tarak (Sinha) sir helped me a lot. I also learned about swing bowling from (Manoj) Prabhakar sir."
Now that he has put the bad days behind him, Deepak wants to represent India. But for that, he knows, he needs to take a lot of wickets in domestic cricket. "I just want to take as many wickets as possible and become the highest wicket-taker in this year's domestic season."
When asked about the areas he still needs to improve on, the Agra-born bowler said: "I want to improve on my pace. I have to learn the art of swinging the old ball."
Though it's his bowling which helped him become an instant hero, very few people know that he has the potential to be a good all-rounder. "I want to become a fast-bowling all-rounder for India," declared the teenager.
Who knows he might be the player that the Indian selectors have been frantically searching for to fill in the all-rounder's slot ever since Kapil Dev retired!