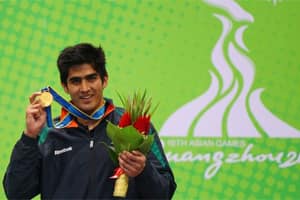 Vijender Singh created history when he became the first Indian pugilist to win a medal in boxing at the Olympics. The bronze medal at Beijing Olympics did change the way boxing was looked at in India. Since then, the sport has earned huge rewards for the country.
However, the loss at Beijing, that forced Vijender to settle for bronze, was compensated at the Guangzhou Asian Games when he, with his broken thumb, knocked out world champion Abbos Atoev of Uzbekistan 7-0, to clinch an unprecedented second boxing gold for India.
But the modest Vijender does not want to take all the credit for the victory as he believes it was 'luck' that helped him win the match. In an exclusive interview with Zeenews.com's Swati Chaturvedi on her programme Kahiye Janab, the star Indian boxer revealed more about his victory. Take a look:
Swati: From winning the bronze medal in Beijing, to the gold medal at the Guangzhou Asian Games, how does it feel?
Vijender Singh: It feels good. It was a dream come true. I finally have won a gold medal for my country.
Swati: You have been accused of being more involved in extra-curricular activities. How do you react to it?
Vijender: All I would say is that I have been winning medals in every tournament that I have participated in after the Beijing Olympics; be it Gold, Silver or Bronze. So my performance has not come down, no matter what I do off the ring.
Swati: You have an amazing fan following in India. Did that in any way bother you during the Commonwealth Games? Was that a distraction?
Vijender: To an extent, yes. There was no privacy at all. Wherever I went, I was always surrounded by people and well-wishers. I do appreciate their love and support for me, but I could not relax at all. However, in Guangzhou, I benefited in a manner. Not many people knew me there. So, I could eat, rest, relax and enjoy. There was some privacy at least.
Swati: During the Asian Games in China, you did not let your opponent know that you had injured your thumb.
Vijender: Yes, of course. I would not go and tell him, "Hey look, I have injured my thumb, so please do not hit me hard." But I did inform my coach as soon as the bout was over. He in turn asked me, "What do we do now?" I said that we had to continue no matter what. So we decided to keep going, and finally, I did beat him (the finalist) by a huge margin of 7-0.
However, I believe that had I not been injured, I wouldn't have had that determination in me to fight on. I would have probably been more complacent and might have also ended up losing the match. So, I believe that whatever happens, happens for good.
Swati: What makes you so strong mentally?
Vijender: When I decided to enter boxing, I was told that this is one sport where you would be hit anyways, no matter whether you win or lose. So we grew up with this in mind and that is what keeps us going.
Swati: Which has been your memorable fight?
Vijender: Beijing Olympics has been the turning point of my career, so indeed the bronze medal won at the Olympics has been the most special for me.
Swati: What else excites you apart from boxing?
Vijender: I am currently hosting a show, 'Contender', which will help boxing gain prominence in the country. The show revolves around the lives of the boxers, their schedule, their struggles, and their family backgrounds etc. The winner of the show will be get handsome prize money as well.
Swati: People are now coming into sports for a better lifestyle. What is your take on this?
Vijender: I am happy that people are now looking at sports as a medium towards a better lifestyle. Good luck to them. And indeed, it is the best way to have a good lifestyle. Our country today recognizes the value of good sportspersons and is doing a lot to cultivate the sporting culture. Every medal winner is honoured and rewarded with handsome prize money.
Swati: What are your plans after boxing? Politics or Bollywood?
Vijender: I haven't planned anything as of now. Life after boxing is still very uncertain. I have no time for politics or Bollywood at the moment. People would rather see me inside a boxing ring than in a movie.
Swati: What is your next aim?
Vijender: My first aim is to get over this injury. Then we have the Fight Nights coming; we first have the tournament against Pakistan and then against Australia. Thereafter, we have the World Championships coming, which is also the qualifying event for the 2012 Olympics.
Swati: You have been doing a lot of advertisements and endorsements. How do you manage your schedule between boxing and shooting?
Vijender: It is very difficult to manage both. I undergo training in the morning, then go for shooting, and then train again in the evening. If I have to travel outside the city, my coach accompanies me everywhere so that I can train with him at least.
Swati: What is more difficult - boxing or acting?
Vijender: Both are difficult. And balancing both the things at the same time is even more difficult.
Swati: What do you have to say about the legal case in which you are embroiled?
Vijender: I do not worry much about it. Such things keep on happening with people in big countries like India. So don't worry, just chill! It usually happens when people see that you have earned a lot of success and they do things to pull you down. So it is nothing to worry about.
Swati: You are aware of the mess surrounding the recent Commonwealth Games. The politicians let us down, and it was only the athletes who saved the day. What is your take on this?
Vijender: I believe that politics and sports should not be mixed. The guilty in the Commonwealth Games fiasco must be punished severely. Nothing is bigger than your country and we athletes work hard day and night to represent our country in front of millions of people. So, the people who bring disgrace to our country must be punished hard.
Swati: But don't you think you had a role to play in preventing this mess?
Vijender: My only role was to play well at the CWG and win medals for my country. And that is exactly what I did. I will not go out on the road and shout, 'Hey, he is a cheater and he's a traitor'. I did my job well.
Swati: Last time you said that cricket is a very lazy game. Do you still believe so?
Vijender: Yes, I still believe the same. A (Test) match goes on for five days, and at the end of the final day, when you expect a result, you find out that the match has drawn. What kind of a sport is that?
Swati: Who is your role model?
Vijender: Internationally, I admire Roger Federer and David Beckham. In India, I admire Leander Paes and Dhanraj Pillai.
Swati: A final question on behalf of all your female followers? Do you have a girlfriend?
Vijender: Let that remain a question.
Adapted by: Sudeshna Guha Roy