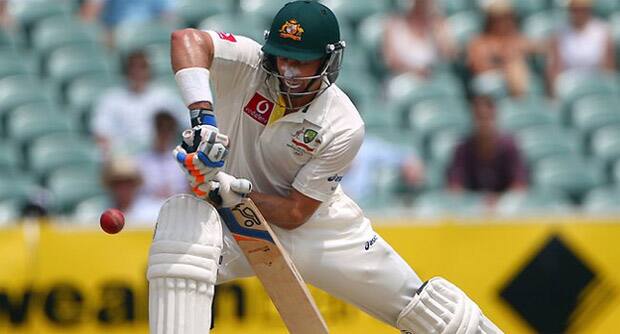 Biswajit Jha
Left-handed batsman Mike Hussey has been one of the phenomenal performers for Australia in the last decade. Though he got a chance to prove his credentials at the international level at a relatively late stage of his career, he compensated it with tremendous hunger for runs in all the forms of game over the seven years in international cricket.
Like leg-spinner Stuart Macgill, who was never a permanent choice in the final XI despite being one of the greatest spin bowlers because of the presence of redoubtable Shane Warne, Hussey was also born in a wrong era of Australian cricket.
He had to wait for a long time to get into the Australian team, which boasted of batting talents like Matt Hayden, Justin Langer, Steve Waugh, Mark Waugh and Ricky Ponting. It was after Steve Waugh's retirement that he finally got his due in 2005.
Making his debut in the first-class cricket for Western Australia in 1994-95, Hussey remained the corner stone of their batting. He also played in the English county cricket for Durham, Gloucestershire and Northamptonshire. But wherever he played, he plundered runs at will and practically forced his way into the great Australian team and established himself as one of the best batsmen to have played for Australia in the past two decades. Such was his consistency that he made a record 15,313 first-class runs before getting his first baggy green cap. He is one of the few players who have three first class triple centuries under his belt.
When Hussey made his foray into the Test cricket, he looked all set to make up for his lost years with incredible performances. Justin Langer's injury opened up the door for him and he was asked to join the Australian Ashes squad at Gabba in 2005. Though he could not set the cricket field on fire in his maiden Test outing, he made his second Test memorable with a superb 137 at Hobart. There was no looking back after that.
A batsman who was at ease against both the pace and spin, he made up his lost years with incredible performances in all forms of the game. His Bradmansque average of more than 80 in the first three years of Test cricket was enough evidence of his class and talent. In 78 Tests, which spanned over seven years, he made 6183 runs at an average of 50.09 with 19 tons and 29 fifties.
He was an able performer in one-day international cricket too. International bowlers could not dismiss him before he played his sixth innings. In his initial career, his ODI average was also envious. With a final average of 48.15 in ODIs with 5442 runs, he can easily be hailed as one of the best finishers of ODI cricket.
Hussey was in a superlative form of late and there was almost no pressure on him to retire. People expected him to carry on at least until next year's Ashes tour. But he kept up the Australian tradition and grace of leaving on a high.
He may not be called the greatest of the game, he may not be hailed as one who shaped the future course of cricket, but he will always be remembered as someone who played the game in right earnest and helped keep its tradition as one of most sophisticated games in the world. The tag of Mr Cricket truly suits him.