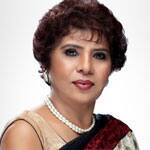 Bharti Taneja
While weddings are all about high drama and opulence, engagements are more about subdued glamour and effortless charm. Let your lovely hair take the centre stage at your engagement and create an unforgettable magic! Renowned beauty expert, cosmetologist and founder-director of Alps Beauty Clinic, Bharti Taneja tells how to choose an elegant hairstyle according to your face shape.
Oval shape – Well balanced and attractive, this is the ideal face shape that women want. From buns to braids, this face shape can carry off any hairstyle with great sophistication. However, if you wish to try something different and make a greater impact, then go for a little imperfection! Don a low, sohphisticated knot and let some of the strands fall out and frame the face and the back of the neck. You can also adorn this easy side bun with floral wreath or matching hair accessories.
Round Shape – Adding length to the face and slenderizing the jaw line is required for the round face. You can either go for a 'bun with a puff in the centre' to create an illusion of length and volume or go with a 'sultry side braid with side-swept bangs from both sides of the face' for a more romantic appeal. The side fishtail braid takes away the attention from the roundness of the face and the side bangs add a little flamboyance to your hair.
Long/ Oblong Shape – In this face shape, the aim should be to reduce the length of the face; an illusion of width is required for a long face. Nothing frames this face shape best like fringes; they subtely cut the length of the face. You can go for a chic chignon with deep side part complimented by fringes. Embellish the chignon with a jewelled hair accessory.
Square Shape – Softening the wide corners of the face and adding an illusion of length is required for square face. After parting hair down the middle, leave a few bangs covering forehead and jawline. Now make a puff in the centre which will add length to your face and finish off with a bun or a fishtail braid. Like bangs, razor cut layers also beautifully shape both sides of your face and create an illusion of oval shape.
Heart-shaped – Narrowing the width of the forehead and adding width to the chin and jaw line are required for a heart-shaped face. The half up and half down hairstyle perfectly suits this face shape. Hair cascading down the middle of the back is great for an easy & effortless engagement look. After parting hair down the middle, section off a half-inch piece on each side and twist, wrapping it toward the back of the head. Depending on how embellished your dress is, you can keep the twists in place with a sparkly pin or barrette.
(The author is the Director of ALPS Clinic and Academy)