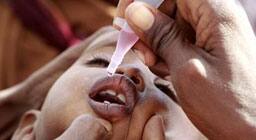 Zeenews Bureau
New Delhi: Global Polio Eradication Initiative has launched an emergency plan after outbreaks of Polio was reported in many countries previously free of the disease.
It aims to boost immunisation in Nigeria, Pakistan and Afghanistan - the only countries in the world where polio remains endemic to stop transmission.
"Over the last 24 months on three continents - in Europe, in Africa and in Asia - we have seen horrific explosive outbreaks of the disease that affected adults, and in some cases 50% of them died." Bruce Aylward, head of the WHO`s polio eradication campaign, said.
Poliomyelitis is a highly infectious disease caused by a virus that invades the nervous system and can cause total paralysis in a matter of hours. It is transmitted via the faecal-oral route.
"Polio eradication is at a tipping point between success and failure," said Margaret Chan, director-general of the World Health Organization (WHO), in a statement. "We are in emergency mode to tip it towards success - working faster and better, focusing on the areas where children are most vulnerable."
The Global Polio Eradication Initiative is a partnership between governments, the World Health Organization (WHO), Rotary International, the US Centres for Disease Control and Prevention and the United Nations Children`s Fund, and supported by the Bill & Melinda Gates Foundation, among others.
"We know polio can be eradicated, and our success in India proves it," said Kalyan Banerjee, president of Rotary International. India was declared polio free this February.
Full implementation of the emergency action plan is hindered by a $950m shortfall in funding, with vaccination campaigns being stopped in some countries.
"It is now a question of political and societal will. Do we choose to deliver a polio-free world to future generations, or do we choose to allow 55 cases this year to turn into 200,000 children paralysed for life, every single year?" Banerjee asked.
WHO members meeting at the World Health Assembly in Geneva this week will decide on declaring polio eradication an emergency for global public health.
"All our efforts are at risk until all children are fully immunized against polio - and that means fully funding the global eradication effort and reaching the children we have not yet reached", UNICEF executive director Anthony Lake said.
"We have come so far in the battle against this crippling disease. We can now make history - or later be condemned by history for failing."
(With Agency inputs)