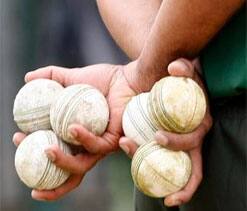 In the recent past, Indian cricket has seen a heartening trend of cricketers emerging from every nook and corner of the country. Coming from the quiet city of Rewa in Madhya Pradesh, Ishwar Pandey shot his way onto the national radar with sterling performances in domestic cricket. In the domestic First-Class season (2012-13), he was the leading wicket-taker with 52 wickets in 10 matches. That won him a call-up to the India A side for the tour to South Africa and he impressed by bowling crucial spells. It was a performance that won him the praise of Lalchand Rajput, the coach of India A as he called the medium-pacer "the find of the tour."
Speaking to CricketCountry, Rajput said, "Pandey has a very good out-swinger. He has great control and his yorker is effective. As of now he bowls around the 130-135kph mark. He is definitely a good prospect, but has to work on a few things. To move to a higher level, he has to increase a wee bit of pace. His endurance also has to improve wherein if he comes to bowl later in that day, he should be able to deliver the ball at a good pace."
CricketCountry then had a chat with Pandey and spoke to him about his progress, his strengths, the successful domestic season and the latest tour to India. A confident Pandey has his head on his shoulders despite the recent success. He was very honest about his game and echoed Rajput's views when he asked where he had to buck up.
Excerpts:
CricketCountry (CC): You took up cricket very late when compared to other players. How did fast-bowling come about for you?
Ishwar Pandey (IP): I only started playing proper cricket after the 12th grade. I always loved playing cricket and before that I used to only play the tennis ball game. When I started off, I wasn't very comfortable while batting against the leather ball and decided to try my hand at fast-bowling. I directly took it up and did not dwell into spin or anything else. From there on, I was only enjoying my game and wasn't thinking too much. I was happy to play well for my side in any division. When I went into any match, I wanted to do my job, bowl well and enjoy. That was what I could do.
CC: Having started cricket so late, you still managed to make your Ranji Trophy debut at the age of 21 in 2010. Going into the domestic tournament, was it tough on you?
IP: Making the transition is not easy. It is a tournament where even India cricketers play and from there you can go ahead. There is always this thought that you want to play Ranji Trophy and also progress forward. But, if you concentrate on your bowling, do things right and of course enjoy your game, you can do well. I did just that and did not take pressure on me. All the while, my focus was on my bowling and the job at hand.
CC: Your first two seasons in domestic cricket were not all that great. But, during the 2012-13 season, you picked up 52 wickets in only 10 games at an average of 22.19. What effected that change in your fortunes?
IP: What worked for me was an improved fitness level. I had worked very hard on it. If you have to bowl well, then fitness does play a very important role and I did concentrate on that area. Also, my stint at the MRF Pace Foundation in Chennai helped me a lot in that regard. Dennis Lillee Sir and later Glenn McGrath Sir gave me a lot of tips.
CC: You just spoke about your time at the MRF Pace Foundation. What did Lillee and McGrath focus on when you were there?
IP: There were a few areas that needed attention and they tried to iron out those flaws. But, they also worked on my natural ability and concentrated on strengthening it. Thus, they asked me to work on my strengths. Fitness was one of the areas of focus.
CC: During the last season, you took five fifers and one 10-wicket match haul. But, if you had to pick one spell as your favourite which one would it be and why?
IP: My spell against Bengal was instrumental in a victory for MP. In the match, I took 10 wickets (10 for 145) i.e. five in each innings. MP won that game by 138 runs. In the thrilling game against Mumbai, I picked up six wickets in the first innings (six for 54), but we lost that game by a whisker. Which is why, I would pick the spell against Bengal as we registered a victory.
CC: On the basis of your performance in domestic cricket, you were picked by the Pune Warriors India for the Indian Premier League (IPL). How important is the experience and what effect did Chris Gayle's hitting (175 not out at Bangalore) have on you in your first match?
IP: Going into the IPL is not easy. It is the T20 format and everything happens so fast. Plus, you are playing against some of the best players in the world. A bowler gets only four overs to do what he has to. When Chris Gayle hit his way around, my confidence did take a hit naturally, but when I got the opportunity in my next game, I did well.
CC: How different is your approach to bowling in an IPL game than say a Ranji Trophy? How attacking are you in the two different formats?
IP: When I played the IPL, I concentrated on bowling to the field that was set. In those four overs, it is important to maintain control and bowl according to the field. You have only four overs and you also have to concentrate on plugging the flow of runs. But, when it comes to bowling in a First-Class game, you are going for wickets right through. The batsmen there are much more defensive and you have to make things happen by attacking.
CC: How much do you concentrate on pace? What are you strengths and where do you have to improve?
IP: I do concentrate on pace and swing. Currently, I am working on getting fitter and pace is also something I have to increase. Also, if I can swing the ball at a pace over 135kph, that would be good. That is what I am trying to do.
CC: During the recent India A tour, you bowled very well and played a vital role in the victory in the first unofficial Test (seven for 71 in the match). The batsmen were scoring runs there and it didn't seem to be the normal South African track. What helped you bowl successfully?
IP: Again, the key was to back my strengths. I had to maintain a good rhythm. On the tour, my teammates also backed me well. It was an opportunity for me to do well and I wanted to capitalize on it. Lalu Sir [Lalchand Rajput] helped boost my confidence during the tour and also praised me.
CC: Any budding player aims to move to the highest level. What are your aims and goals in the immediate future?
IP: Yes, of course, one wants to play for the country. In fact, if I get to play for my state or country I want to give my best and do well. In the immediate future, I am going to concentrate on my cricket and can't say that I have a certain goal. I have to work hard and I am not thinking too much in the future.
Nishad Pai Vaidya/CricketCountry.com