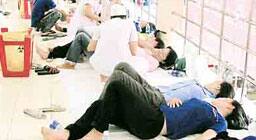 Beijing: Over 400 people suffered from food poisoning in China this year, and 12 of them have died, the health ministry said Wednesday.
From January to March, the ministry received 17 food poisoning reports from across the nation, an increase of four cases from the same period in 2011, but the number of people affected decreased by 22 percent.
The 438 cases occurred in public canteens, families and restaurants, Xinhua reported.
Four cases involved students, with 205 pupils falling ill and one dying due to nitrite poisoning.
IANS