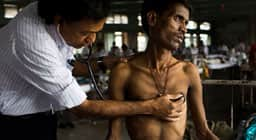 New Delhi: With a Mumbai hospital reporting the first case of total drug resistant (TDR) tuberculosis (TB) in the country, the health ministry Tuesday sent a team to Mumbai to ascertain facts about the new development.
The central team comprising senior chief medical officer, Central TB Division (CTD), consultant (Drug Resistant TB), CTD, and national programme officer (Laboratory) are in touch with the health authorities of Maharashtra, said a health ministry official.
Experts from WHO-India reached Mumbai on Monday and started an analysis of the situation. The team is also involving experts from concerned stake holders including Hinduja Hospital, Mumbai.
The P.D. Hinduja hospital detected four people with total drug resistant (TDR) tuberculosis (TB) till November last year. In the last two months, eight others have been detected with TDR-TB.
According to the health ministry, the Hinduja Hospital Laboratory is not accredited to the central government`s Revised National Tuberculosis Control Programme for diagnosis of Extensively Drug-Resistant (XDR)/Totally Drug Resistant (TDR) cases.
"It is only accredited for conducting Drug Susceptibility Testing (DST) by liquid culture and sensitivity for first-line drug only," an official said.
The Revised National TB Control Programme ((RNTCP) has accredited only three labs for conducting quality-assured second-line anti-TB drug susceptibility testing. These labs are National TB Institute (NTI), Bangalore, LRS Institute of TB and Chest Disease, New Delhi, and National Institute of Research in Tuberculosis, Chennai.
"The term TDR-TB is neither recognised by the WHO nor by RNTCP. For now, these cases are defined as Extensively Drug Resistant Tuberculosis (XDR-TB), according to WHO definitions, and accordingly can be managed by national XDR-TB treatment guidelines," the official said.
The preliminary results of second-line drug susceptibility testing for MDR-TB patients from DOTS (Directly Observed Treatment Short) and the samples collected from Gujarat and Maharashtra drug resistance survey show that there is no new cases of XDR-TB and 0.5 percent are among re-treatment cases, added the official.
IANS