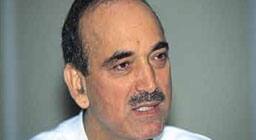 New Delhi: Admitting that the healthcare system was "overwhelmed" by inequities, Health Minister Ghulam Nabi Azad today said Government would provide universal healthcare in the 12th Plan and take steps to ensure free generic drugs at all public health facilities so as to reduce out of pocket expenditure of patients.
"In the 12th Plan, in our attempt to provide universal health care, steps would be taken to provide free generic drugs at all public health facilities for reducing financial burden on the patients," said Azad while addressing a National Consultation on "Social determinants of Health" here today.
About 70 per cent of out of pocket expenditure on healthcare in India is on drugs.
Azad said the healthcare system in itself was an important social determinant and to address the problem of inequity in health care, the government had launched several programmes to provide affordable, accessible and quality healthcare to all, especially the vulnerable sections of society.
The minister vowed to take forward the recommendations on Universal Health Care (UHC) for all as made by a Planning Commission expert group which was set up in 2010 to show the way forward on UHC. The panel recommended public procurement of drugs and free delivery of generics.
The minister said today, "The healthcare system and health status of population was is still overwhelmed by inequities related to accessibility and affordability."
Prime Minister Manmohan Singh, while inaugurating the Polio Summit, had also stressed on the need to take forward the concept of universal healthcare.
Azad said moving forward in the direction of reducing inequities requires actions not only within the health sector but also across other sectors.
"It requires a true and deep commitment at all levels to address various inequities challenging us in the path of accelerated growth.... It needs participation from all stakeholders. It requires continuous measurement of inequities and corresponding corrective measures," he said.
The Health Minister underlined the Government`s resolve in overcoming the challenge of addressing social inequities.
"If it means investing more for the poorer segments of society, we shall do it; if it means challenging the biases against the marginalised segments of society, we shall do it; if it means ensuring better integration of different development programmes, we shall do it and if it means reducing out of pocket expenditure on healthcare for the people who cannot afford it, we shall do it," he said.
Azad also said that despite understanding the social origins of poor health status for long, "we continue to come across stark inequalities in health opportunities between and within countries. Due to these determinants, the differences in life chances are dramatic".
Earlier, chairman of the WHO Commission on Social Determinants of Health Michael Marmot pointed to India`s dramatic improvement in health status in the last 40 years.
"India has come a long way in improving health, but it still has a long way to go," he said.
He said "if one really wants to improve health in populations and reduce avoidable inequalities we have, it means action not only in the health care system but action on the wider social determinants of health."
Marmot said historically India has been a very poor country but there are real possibilities now to make a huge difference. "It means political commitment and social commitment. It means this commitment to use the benefits of economic growth to spread them more widely among ordinary people which will make a huge difference to health," he said.
Minister of State for Health and Family Welfare S Gandhiselvan and Secretary Health P K Pradhan also spoke on the occasion.
PTI