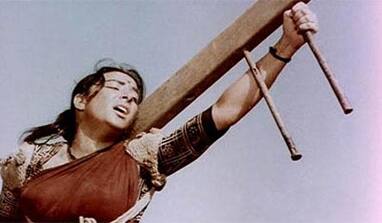 Gayatri Sankar
In the recent times, women in India have been subjected to ghastly episodes that bring their lives to a complete halt - events that leave an indelible scar! Women are subjected to acid-attacks, molestations, eve-teasing, sexual abuse and even rape – incidents that cause damage beyond repair.
And in a country like ours, where a patriarchal society finds itself complacently placed, issues concerning rights of women go into hibernation for good.
Cinema in India is a reflection of our culture of sorts. Yet the medium often leads to a debate that opens up a forum for different schools of thought to express their take on the impact of films on society and vice versa.
In most Indian films, a woman is often portrayed as the weaker sex, a subject one will sympathise with. The protagonist, the hero is meant to protect her and free her from the clutches of his enemy. And there are instances when the hero's female sibling is sexually abused or raped by the antagonist thereby ripping her off her 'honour'.
Not being able to withstand the disgrace, the victim decides to end her life. More often than not, a woman character is shown as someone who seeks sympathy and mercy. Probably that leaves the society wondering if a woman lacks the courage and determination to fend for her rights.
Legendary actor-director Raj Kapoor's film 'Prem Rog' dealt with the issue of forced sex, where a young window is raped by her brother-in-law. Likewise, many Hindi films including Rajiv Kapoor's 'Prem Granth', Satish Kaushik's 'Hamara Dil Aapke Paas Hai' spoke about the trauma of a rape victim, how the society treats her and the repercussions of being a woman with a "tainted" character!
Even in Mehboob Khan's magnum opus 'Mother India', Nargis plays a woman gripped by adverse circumstances, who falls prey to a cunning landlord, who intends to sexually abuse her.
Films are pieces of fiction but they do take a cue from what a society witnesses in real. But whether films influence society at large or it is the other way round is hugely debatable.
Nonetheless, even as we boast of speeding to the 21st century where discussing gender discrimination looks an outdated topic, society does get biased. Even in films, women characters in most cases play second fiddle to the so-called stronger sex.
And same is the case in real life. A woman is held responsible for inciting rape and allegedly giving sexual advances by wearing provocative clothes. So what sort of world are we living in? For even in the world of celluloid, we see women being used as objects!
Thankfully, in the recent times, rapes are rarely depicted in films. But that doesn't substantiate the level of respect female characters have garnered, for they have now voluntarily turned an object to please the voyeur.
Do films really influence their audiences? If so, then could we see women being projected with dignity and grace? Perhaps the society too should change its attitude towards women thereby making her a 'victor' and not a 'victim'.
One could probably take a leaf out of Mehboob Khan's 'Mother India', where in at the end, the Mother triumphs despite all odds and has the society following in her footsteps.