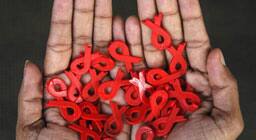 London: Scientists are carrying out what they claim is the first clinical trial of an injectable vaccine for HIV which causes AIDS.
A team from Imperial College, Hull York Medical School, Medical Research Council Clinical Trial Unit and Infectious Disease Research Institute is evaluating whether the vaccine is safe for use in human volunteers.
The vaccine contains trimeric HIV envelope protein (gp140) which can target the virus` most virulent strain Clade C that has caused the greatest number of HIV infections around the globe, infecting half of the 34 million people with HIV.
The trial, which is funded by the Wellcome Trust and goes by the name MUCOVAC2, is evaluating a vaccine that contains the HIV trimeric gp140 protein CN54, representative of Clade C strains of the virus.
This clade of HIV is the most prevalent type of virus in Sub-Saharan Africa and responsible for the greatest number of infections globally. The trimeric protein represents the major target for antibodies on the viral surface.
The vaccine candidate will be formulated with an adjuvant -- GLA -- developed to enhance immune responsiveness following intramuscular injection. GLA formulations have been previously tested clinically with promising results.
The scientists have enrolled 36 healthy, HIV-negative women aged 18-45 years at St George`s University of London and the HYMS Experimental Medicine Unit at York Hospital.
The trial will evaluate vaccine`s safety and determine the quality and magnitude of induced immune responses. The research is expected to take less than a year to complete with results available early 2013.
"Globally, women comprise half of the 34 million people living with HIV. In Sub-Saharan Africa, women represent nearly 60 percent of adults with the virus.
"Our collaboration marks an important juncture for the field as we begin to assess which routes of immunisation may provide the best responses to protect women," said Prof Robin Shattock of Imperial College, who leads the consortium which developed the MUCOVAC2 trial.
PTI