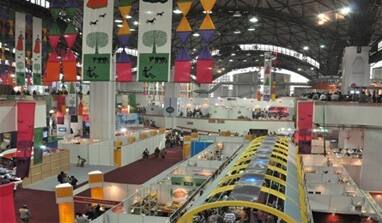 Resham Sengar
Like every year, this year too the national capital is yet again hosting the most-awaited and most-celebrated event – India International Trade Fair 2012, and eager buyers are queuing up to buy miscellaneous stuff on display at the stalls in huge numbers.
Of the pavilions assigned to sell wares of all the Indian states, the Maharashtra pavilion deserves a special mention here, for it manages to catch hold of the distracted buyers' attention with the exquisite and colourful Paithani silk sarees that are on display on the clear glass windows of the state's pavilion. While Paithani sarees are priced between Rs 10,000 to Rs 3,00,000, the Kosa weaves fall in a much affordable range if you wish to buy them for daily wear. Also, the pretty Kolhapuri chappals are being sold at a bargain price range of Rs 210 to Rs 310, something that is just not-to-be-missed!
For tech-buffs, the pavilion selling electronic goods is mini-Mecca since it has big and small brands easily within the reach of their prospective buyers. Inside the pavilion meant for industrial products, a new entrant in the market this time is a machine that has the power to extract pure silver from waste easily and thereby, waste fixer solutions like X-Ray clinics, photo labs, etc. can own the same by spending a nominal sum on the unique gadget. No doubt, this one is a major eyeball grabber in the pavilion.
At the international goods' pavilion, if renovating or beautifying your home is in your mind, then make headway to the Turkey stall and grab the splendid hanging lights and candle stands that are being admired and bought by buyers. Also, the stall has lovely crockery on display, along with the famous evil eye bracelets in a range of designs and prices that would suit every pocket. Then there are exotic eats such as the Saffron and Barbari (a dry fruit) that can be purchased from the Iran stall and the good part is that they are authentic and would stay fresh for 2 years.
All that shopping, browsing through stalls and walking from one pavilion to another would surely make you weary, right? So, the best bet is to carry some eatables along to keep hunger pangs at bay – else, be ready to shell out extra cash for that over-priced dish at the food court!
India International Trade Fair ends on November 27, 2012.