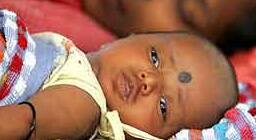 New Delhi: The infant mortality rate (IMR) in India has come down to 47 from 50 deaths per 1,000 live births over the last one year, a bulletin profiling the country`s demographic details said Wednesday.
"IMR has dropped further by 3 points from 50 to 47 infants deaths per 1,000 live births during 2010," the Sample Registration System (SRS) bulletin said here.
"The IMR for rural areas has dropped by 4 points from 55 to 51 infant deaths per 1,000 live births, while the urban rate now stands at 31 from the previous 34/1000," it added.
Goa had the lowest IMR, while Madhya Pradesh stood highest. "Goa has the lowest IMR of 10 infant deaths followed by Kerala with 13 infant deaths per 1,000 live births (as against 12/1000 in January 2011 figures)," the bulletin added.
"Madhya Pradesh has the highest IMR of 62 infant deaths per 1,000, followed by Uttar Pradesh and Odisha. Assam, Bihar, Chandigarh, Haryana, Rajasthan, Meghalaya still have IMRs more than the national average of 47," it said.
The SRS, initiated by the Office of the Registrar General of India, estimates birth rate, death rate and fertility and mortality indicators at the national and sub-national levels through field investigation and enumeration on an yearly basis.
IANS