New Delhi: The tickets for International Premier Tennis League (IPTL), might have left a big hole into the pockets of several tennis fans, but the joy of watching Roger Federer play live is something which is of utmost importance.
On Day 1 of the IPTL, the jam-packed stadium was full of fans that had travelled from different parts of the country, just to see Federer play. The fans, who said the prices of the tickets were slightly too much, at the same time agreed it was worth watching the Swiss legend play.
Smitha, a Federer fan hailing from Chennai, said that she had to sacrifice her one month's salary to watch Federer play, but it was totally worth it.
"This trip to New Delhi has cost me around 35-40k which includes travelling and accommodation expenses. It's around my one month's salary. But I believe money is something I can earn again but I don't know whether Roger Federer will come to India again to play. So I am very happy as I will get to see him play live and I thank IPTL for it."
Ayush Agarwal, a marketing consultant from Mumbai said he had to spend a sum of around 30k (including travelling expenses) but he doesn't regret his decision.
"I am a big Federer fan and even though I had to spend around 30k for this trip to New Delhi, the money doesn't matter as to get Federer in India is a huge achievement. "
Amid all the fans, two people who stood out from the rest were Shravan and his 60-year-old mother Hemalatha, both Federer fans, who rigorously waved their placards to attract the cameras.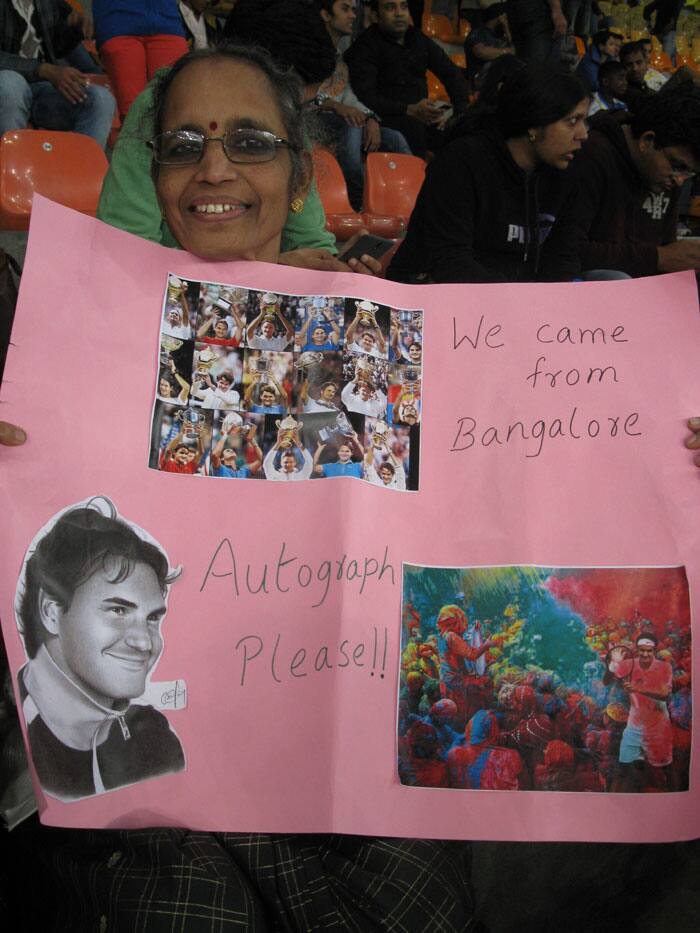 "It's an exciting atmosphere around here and see, I earn decent amount of money, but 50k is a huge sum for me. But I keep travelling to attend sporting events and couldn't miss out on this one since Federer is here!" said Shravan.
"I am not that fond of tennis. My son is crazy though! But I am a big Federer fan and we are here just for him," said Hemalatha, who was very keen to get Federer's autograph.
Both Shravan and Hemalatha were not aware of the schedule where Federer was supposed to play from Day 2 onwards. When told about the fact, they couldn't believe it and took some time to recover from the shock before waving their placards once again having seen some of the fans appear on the big screen.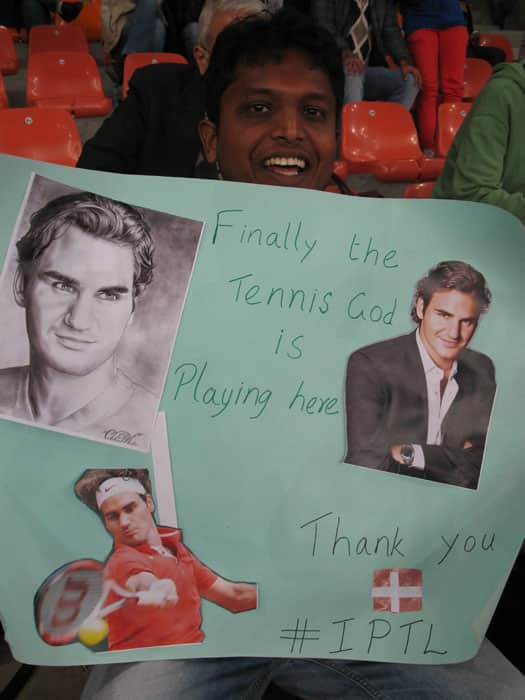 Most of the fans hailed the concept of IPTL and were glad to see several established tennis stars play right in front of them.
"It is good to see such world class players play in India. The atmosphere is very lively, and it's very well conducted," said Mr V Sridhar, a 64-year-old tennis fans who has been following the sport since over three decades.
On the opening day, some of the international players who enthralled the crowd were Marin Cilic, Lleyton Hewitt, Gael Monfils, Ana Ivanovic, Goran Ivanevic, Patrick Rafter and Caroline Wozniacki.
The Indian pair of Sania Mirza and Rohan Bopanna were cheered the most throughout the day.