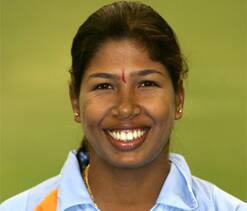 She is the most popular women cricket player from India who has made a mark for herself in the world of international cricket. She being the quickest bowler in the women's circuit also adds a bit to that popularity. She was also the best women cricketer for 2011 bagging the M.A. Chidambaram trophy. Clearly, she is not just popular, but has got some serious talent to back up the reputation. She leads the Indian women cricket team and now Jhulan Goswami is also the proud recipient of the country's 4th highest civilian award, the Padma Shri.
In an exclusive chat with Zeenews.com's Vineet Ramakrishnan, Jhulan talks about her biggest achievement till date, the Padma Shri and much more.
You have been conferred with India's 4th highest civilian award, the Padma Shri, how do you feel?
Jhulan: To be a recipient of Padma Shri is a great honour and it is the biggest achievement of my life so far. It is a very emotional and a proud moment for me. It was a bit of a surprise first of all as I was not expecting it. I didn't even know my name was in the list of probables, but it gives me great pleasure to be chosen for the award along with five other sports personalities.
You have now joined the elite league of cricketers like Sachin Tendulkar, Kapil Dev, Rahul Dravid, Virender Sehwag to name a few who have won this award.
I would be more than happy to be standing in a corner amongst these greats.
What was your first reaction when you got the news?
I was practicing with the team and in the break when I got a call from the PIB regarding the award, I just stood up; that was my first reaction. It was totally unexpected and emotions were running high as I was telling my teammates and friends. As a sportsperson, these awards encourages one to perform more for the team and the country and I feel very proud to get his honour.
Last year, BCCI had adjudged you the best women cricketer and now with the Padma Shri you could very well be regarded as a superstar of women's cricket in India, right?
I don't know about being a superstar or anything of that sort... my job is to play the game for the country and do well. There is certain a satisfaction I get giving my best every time. BCCI has always given us great support. We have access to better training facilities and accommodation. We have been going on foreign tours more frequently now and such exposures are always good. Even the team's performance has been very pleasing and as sportspersons and cricketers it is our responsibility to do well at the highest level and accordingly we will get all the support and accolades. Also, such awards motivate us to do well and things are improving.
It is definitely a great way to start off the year, but in cricketing terms, there is a lot lined-up in 2012. What are your expectations?
We have a lot on our hands this year. We would be touring West Indies, then would be going to England and there is a possibility of Australia coming here in between and of course there is the T20 world cup that we are looking forward to. And as far as the expectations go, we just have to play good cricket and keep working constantly for better results.
There would be lot of players who would have inspired you, for instance, someone like Neetu David, who is the all time highest wicket taker (141) for India in ODIs and you are very close to beating that record.
Neetu David is like a legend for me. She is a very good bowler and even in overseas tour she used to take wickets so frequently. She is a very tough customer to handle and she in a way showed us how to take wickets. She is not only the best India bowler, but is one of the best in the world as well. Purnima Rau is another person who has been a great influence in my cricketing career, she has supported me throughout from the time I was 15 or 16. Mithali Raj again is a class apart and she is the best in the world and a dear friend as well who has helped me immensely in my career.
You had said in an interview during the BCCI awards last year that you are getting older and to continue to bowl fast, strengthening the body is imperative.
Sports injuries are very common and I thrive to strengthen myself each day. Being a fast bowler, niggles will always be there and they are a part and parcel of what I do. Fortunately for me, I haven't had anything big to worry about and I hope nothing of that sort happens in the future too and I hope to continue to bowl the same way.
What do you think of the young players in you squad?
The young crop of players is so good and talented ; Veda Krishnamurthy, Harmanpreet Kaur, Subhlaxmi Sharma, Ekta Bist all have the skill and talent and the list will go on and on; all have great potential to serve the country for a long time.
What is your ultimate goal?
To win the World Cup for the country is the ultimate goal for me, and my eyes are set on this year's T20 World Cup as well.