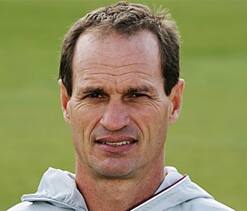 Biswajit Jha
There are only 14 players in the history of international cricket who have represented two different countries in their Test careers. Among them Gul Mohammad, AH Kardar and Amir Elahi played for India before the partition of the sub-continent in 1947. The creation of a new nation Pakistan gave them the opportunity of representing a whole new country. Apart from these three, we will discuss the other 11 players and see what led them to represent two different countries:
SC Guillen: Sammy Guillen was the most interesting cricketer to have played for two different countries. Out of the 8 Tests he played, five were for West Indies and the rest for New Zealand after deciding to shift his base to the Kiwi nation and played first-class cricket for Canterbury. But the most interesting part of this wicketkeeper batsman was that he played 3 Tests for New Zealand against his country of birth and the team he made his Test debut. His tryst with history continued when his stumping gave New Zealand their first ever Test match victory in 1956, 26 years after they started playing Test cricket.
AJ Traicos: Left-arm spinner John Traicos was an interesting case. He was born in Egypt, brought up in South Africa and played for both South Africa and Zimbabwe. He made his Test debut for South Africa's final Test before apartheid in 1969-70. He then came back to Test cricket in 1992 at the age of 45 in Zimbabwe's debut Test series. The gap between two Tests- almost 23 years- is the record in itself. Despite performing well for Zimbabwe, his career never went beyond seven Tests due to business commitments.
KC Wessels: Kepler Wessels is the latest player to have played Test cricket for two different countries. When he was in his pick, he had little hope of playing international cricket for South Africa during the apartheid era. However, Kerry Packer's World Series Cricket gave him an opportunity to play international cricket. He was named in the Australian team for the World Series Cricket in the late 1970s. After the World Series, Wessels decided to stay in Australia and started playing for Queensland to qualify for Australian Test team. He played his first match against England at The Gabba in Brisbane in 1982 and scored a century on his debut. He became the first South-African born person to play for Australia. He played 24 Tests for Australia and did really well as an opener at a time when the Kangaroos were struggling to maintain their supremacy.
After 1985-86 season, he again relocated to South Africa and started playing cricket for Eastern Province. When apartheid was removed in 1991, he was named in South Africa's national team. Since he was only player to have prior international experience, he was made the captain of the side 1992 Cricket World Cup. He also led South Africa's national team against Australia in 1993-94, a country he used to represent earlier. He retired during that series.
WE Midwinter: This Gloucestershire-born all-rounder played 12 Tests between 1877 and 1887. His first four Test appearances were for England before moving to Australia, where he played 8 matches. But he decided to return to his native land to play four more Tests. His records both as a batsman and a bowler were moderate though he excelled in first-class cricket as a bowler picking up 419 wickets in 160 matches.
WL Murdoch: William Lloyd Murdoch, popularly called Billy Murdoch, was a fine batsman who played 18 of his 19 Tests for Australia and one for England. He was a fine batsman who played crucial roles for Australian teams in 1880, 1882, and 1884 England tours. In 19 Tests he scored 908 runs with 211 being his best at an average of 31.31.
JJ Ferris: Ferris was a superb left-arm swing bowler who played 9 Tests, 8 for Australia and one for England where he later settled down. His prowess as a bowler could be understood by his records. He claimed 61 wickets in 9 Test at a staggering average of 12.70. He led the Australian attack to bowl England out for a paltry 45 at Sydney in 1886-87. But later he moved to England for whom he played a Test against South Africa in 1891-92. His career ended early as he died of enteric fever at the age of 33.
SMJ Woods: A versatile sportsperson, Sammy Woods played cricket and rugby at the highest levels. But it's cricket he excelled most at and represented both Australia and England, three each for both the countries. He was basically an all-rounder though he would be remembered mostly for his fast bowling. It's a fact that he did not have great records to show off his class, it was no denying that he was a superb bowler in the first-class level where he claimed 1040 wickets at an average of 20.18.
F Hearne: Hailed from a notable cricket family, Frank Hearne played for his native country England in 2 Tests while represented South Africa 4 times. When he toured South Africa in 1888-89 with the England team, he fell ill and decided to stay back there. In due course of time he was invited to play for Western Province and then got selected to represent the South African Test team. Incidentally, his debut match for the Proteas was also the first Test appearances for his two brothers for England.
AE Trott: Another cricketer who played both for Australia and England, Trott's career never blossomed. He ended up playing only 5 Tests, doing nothing notable. Though he did well in the first-class cricket, he committed suicide after becoming completely insolvent.
F Mitchell: Frank Mitchell played first for England and then for South Africa where he was fighting with the British army. He played 5 Tests between 1899 and 1912.
Nawab of Pataudi Snr: Iftikhar Ali Khan or Nawab of Pataudi Snr remains the only cricketer to have played for England and India. He was selected in the England squad in the first Test of the infamous bodyline series of 1932-33. He responded well by scoring a fine century. But he was axed from the squad for the next Test as he did not agree with the nasty tactics of captain Douglas Jardine. After this, he returned home and was named Indian captain for the 1936 England tour. But he withdrew from the tour citing health reasons.
He finally led India in 1946 tour of England. He had passed his prime then and did not do very well with the bat. He played 5 Tests in that tour and retired soon after.