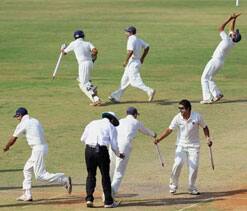 Biswajit Jha
What their predecessors failed to realize repeatedly in 1960s, they have achieved it twice by winning two back-to-back Ranji Trophy titles. It's no mean achievement considering the fact that only three teams, apart from Mumbai, have done it before.
No doubt they were fortunate. They qualified after a lot of permutation and combination going right for them. But clichéd it may sound, fortune never befriends losers.
If last year's sojourn was 'out of the blue', this year, their story can be termed as 'second season blues'. They started their title-defence in disastrous fashion, getting hammered by the Rest of India team in the Irani Trophy in all departments.
At that time, there were a large number of people who thought that the last year's Ranji high was a fluke. And when the initial matches of 2011-12 Ranji matches were being played out, their convictions became a reality.
No one thought that they would stay in the Elite league, let alone become the best team again. Everything was going downhill for them. Amidst this, injuries started to haunt them and consumed in-form batsman Ashok Menaria, who had slammed a double ton against the Railways.
At that time they conceded first innings lead in first five matches and were facing relegation!
Opener Aakash Chopra, who depicted their last year's journey in his delightful book "Out of the Blue", thinks it is the resilience and the never-say-die attitude which helped them keep their hopes alive.
Despite posting huge totals on the board, they were not able to bowl the oppositions out in the earlier matches. They were really worried about their bowling.
When skipper Kanitkar said that it's a team effort, you have to include the Rajasthan Cricket Board (RCB) in it. The way they showed the promptness to rope in former South African paceman Meyrick Pringle, who was already in Jaipur, coaching at a private academy, as their bowling coach was really unique in Indian domestic cricket. It once again showed that champions are not always born; you can also create them with a proper support system.
Co-incident it might sound, but their bowling unit suddenly got a new lease of life after Pringle's appointment. A team which struggled to take 20 wickets in the first five matches, Rajasthan registered two outright wins against Saurashtra and Orissa and from there on they never looked back.
Despite losing last year's hero, medium pacer Deepak Chahar, in the knock-out stage due to jaundice, they found a new sensation in Raturaj Singh, who claimed 26 wickets in only four matches.
He came up with a match-winning performance in the semi-final against Haryana after his team was shot out for a paltry 89 in the first innings. His 12-wicket haul in the match gave Rajasthan a much needed boost going into the finals.
His senior pace bowling partner, Pankaj Singh, also started to perform and formed a potent partnership with his junior new ball bowler. That pace bowlers like to haunt in pair was once again proved!
As bowling performances went up, the batsmen started to feel less burdened. Robin Bist, who became the highest run-getter in the Ranji season with 1034 runs and has put forward his case for a spot in the Indian Test team once Dravid and Laxman decide to retire, did not allow his team to miss their star batsman Ashok Menaria. Opener Vineet Saxena, who scored a match-winning marathon knock in the final, contributed in almost all the matches and also scored close to 1000 runs.
The professionals in the team, Aakash Chopra, Rashmi Ranjan Parida guided the local Rajasthan lads like Bist , Puneet Yadav and Dishant Yagnik like elder-brothers. Chopra also scored a crucial hundred in querter-final.
The 'captain cool' Kanitkar, who allowed his players to make mistakes and learn from it, was like a father figure to the team. His calmness helped the team during the trying circumstances. And remember, they had faced enough of it this year.
But once they were in the knock-outs, they were on a roll, playing like true champions. They might not have played ruthlessly like a boxer, they were rather calculative in their approach like a chess champion.
They may have resorted to 'playing ugly' method but there is hardly any doubt that they played effectively. Their successors might not learn how they had won, but one thing they will remember is the team won two back-to-back Ranji titles despite being underdogs…