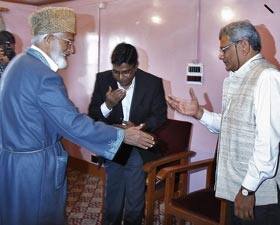 Kashmir has taken a step backwards as it has plunged into cycle of violence and protests. Since June 11 this year, more than 100 people have been killed. In the backdrop of the volatile situation, New Delhi has sent an all-party delegation to take stock of the situation.
Noted political analyst and Head of the Department, Political Science, Kashmir University, Professor Gul Mohammad Wani, shared his views in an interview with Zeenews.com's Biplob Ghosal on several issues ranging from the sentiments of the Kashmiri youth to the all party delegation sent by Central government.
Biplob: Being a professor in the Kashmir University and with your daily interactions with the youngsters, what do you feel has compelled the youth to come out and protest against security forces in this manner?
Prof Wani: There are various reasons for it, not just one. Firstly, we saw a peace process between India and Pakistan till the Mumbai attacks happened and that peace process was going on at two levels - between New Delhi and Islamabad and between New Delhi and Srinagar.
The youth and the different sections of the society in Kashmir were very much connected with that peace process. There was a sense of empowerment and confidence. The security apparatus was diluted automatically due to the peace forces.
Unfortunately, post Mumbai, not only has India-Pakistan relationship deteriorated, but New Delhi-Srinagar relations were hampered. Between all this, we saw good participation in Assembly Elections.
However, the youth generally were at the vanguard and had faced militancy since 1990. They felt absolutely disconnected with what was happening. There was a sense of disbelief and distrust in some sections of the society and particularly the Kashmiri youth.
Two former chief ministers, Ghulam Nabi Azad and Mufti Mohammad Sayeed, had to write to 20 chief ministers of other states about how Kashmiris are suspected- particularly the youth- by security agencies. Unfortunately, since last year, we saw systematic and unaccountable killings of youth, and in 2009 these selective killings continued with no credible enquiries. We also witnessed fake encounters due to which people lost faith in law and order, state machinery and also in the administration. The Kashmiri youth does not have the avenues of employment as you find them in other parts of the country. Though public investment is prevalent, but resources are increasingly in corrupt hands and development is stagnant.
Because of two decades of violence, our education system is not too competitive. In a conflict situation, government has its own problems and governance becomes a casualty in such a situation.
Though conflict in Kashmir is primarily political, but one cannot ignore the economic, governance and employment imperatives which are too critical as far as conflict situation is concerned.
If one asks them(youth) what they are fighting for, they will say they are protesting for their rights, liberties. The youth don't have any economic agenda in particular. They are not putting a premium or over emphasising economic or unemployment dimension to the problem. They want a more liberal political environment, security, and long-pending political rights. There are problems on social, economic, political and security front. And unfortunately, the peace process has hit a dead end.
Biplob: Reports claimed that stone-pelting in Kashmir Valley had actually turned from a tool of protest into a lucrative `business` for some unemployed youths. Do you agree with this view?
Prof Wani: For a long time, this theory was in circulation that some political party in J&K is instigating the youth. The other conspiracy theory was that they are being paid and another theory was that this was prevalent in some urban pockets as far as the Valley is concerned. Three months have passed and these theories do not stand the test of time. Stone-pelting has not only spread to the farthest corners of the Valley, but Jammu has also been affected. It needs to be understood that the youth in Kashmir feel abandoned, hopeless, and then there is a large sense of secessionism. Hence, the problem has become more complicated.
Biplob: Shabir Ahmed Wani was arrested after his conversation was intercepted. Reports claim that Hurriyat has a role to play in fomenting trouble in the Valley. What do you have to say on this? Who all are behind this?
Prof Wani: Hurriyat has been at the forefront of the movement for almost 20 years. There is no doubt that there is a certain programme followed. There are two factions of the Hurriyat - one led by Geelani and the other by Mirwaiz, and other separatists groups are supporting this movement. In spite of separatist leaders' appeal to keep the protests non-violent, they fail to do so and the primary reason for that is the restive youth. As far as intercepts are concerned, I don't know much about it. But outside this framework, it is a known truth that two factions and other separatist leaders are very much supporting the protests.
The mainstream political parties are not disagreeing with what the youth and other sections are saying. Whether they are the Hurriyat, National Conference or the PDP, everybody is talking about security laws, human right violations, fake encounters, credible enquiries, releasing political prisoners, taking different sections of the society on-board and continuing the dialogue process.
The issues are the same, only the ways of highlighting them are different. All parties believe that it is a political problem and this needs to be addressed. The Hurriyat faction has its own stand and the NC has its own, but issues are almost common.
Given Geelani's hard-line approach, the demands are not so harsh, they can be negotiated, discussion can be done. But his political views are very much known to people. I need not comment on that.
Biplob: Do you think it is the same old ploy of Pakistan to stir up trouble whenever things start normalising in Kashmir?
Prof Wani: For a long-term solution, Pakistan's involvement is important and the Indian government is recognising this.
Biplob: How have separatists used social networking websites to garner support for their cause?
Prof Wani: In the 21st century you cannot stop such things. We saw this during Tiananmen Square. China was also not able to hide what happened there. In this age of communication revolution, you cannot expect people to remain ignorant about what's happening in other parts of the world.
Biplob: There are voices terming AFSPA as a tool in the hands of security forces to violate human rights. Do you think the act should be repealed?
Prof Wani: As far as the security laws are concerned, whether it is the AFSPA, Disturbed Area Act or Public Safety Act, these were actually made use of at a time when there was full-fledged armed militancy in Kashmir from 1990 onwards.
However, for last 2-3 years, peace process had an impact on Kashmir. We saw opening of roads, we saw divided families being reunited, people to people contact increased and trade developed. So, in this backdrop of the détente, violence came down in Kashmir. In 2009, we saw less violence and the only important issue was to get back the youth who had crossed the border at one point of time. In between, there were two elections. And a good turn-out of the electorate was witnessed.
Where is the justification of such harsh laws then? Before 2008, issues like demilitarisation, liberating the civilian space, respecting human rights, rolling back of security laws were taken up by the political parties. So the demands of the people are genuine and those acts have no justification and should be revoked. Even one working group under Vice President Hamid Ansari has also recommended that such laws should be revoked.
Biplob: How do you rate Jammu and Kashmir Chief Minister Omar Abdullah's performance in tackling the troubled situation?
Prof Wani: Omar Abdullah is young and lacks experience. Experience matters in a conflict state like J&K. But what is important is National Conference (NC) is in a coalition with Congress and more importantly the latter is in power at the centre. Historically NC and Congress have never been able to bring peace in Kashmir. It is a fact which has not been highlighted by the media. The alliance has led Kashmir into darkness. Congress has played a very irresponsible role in J&K and Punjab as well. Congress should support the Omar government from outside and not get internally involved because most of the ministers in the cabinet have serious corruption charges against them. When you have corrupt ministers, governance becomes a casualty at the very inception and public perception starts changing from day one.
The delivery mechanism of the state government should be good and its reputation should be restored in the eyes of the people. It is very difficult in a troubled state if the chief minister is merely in office and not in power. The credibility and confidence needs to be ensured. Government of India should open up channels of communication, reach out to separatists through interlocutors. The Hurriyat has its own responsibility as well.
Biplob: What's your view on the all-party team visiting Jammu and Kashmir headed by Home Minister P Chidambaram? Do you expect any positive outcomes?
Prof Wani: As far as the all party team is concerned, it is better late than never. This matter was at Prime Minister's Office for long and the Communist Party of India also raised the issue in Parliament to send an all-party delegation to Kashmir. I don't know why PM's office was sleeping till Eid. The fifteen deaths on Eid made Delhi serious and send a team to J&K.
It is very important that this delegation should reach out to people and take their inputs. The Home Minister of the country has given some important statements over a period of time like Kashmir is unique, that its history is different and Kashmir was acceded to India under unique circumstances. This means Mr Chidambaram is in a sense of seriousness. It is hoped that once the delegation goes back, New Delhi should implement certain developmental measures, and confidence building measures are unilaterally announced.
The innocent school going boys picked up by security forces, political prisoners who don't have serious charges against them they all should be released. We should have some strong interlocutors and I would suggest Mr NN Vohra, Governor of the state, who is very well familiar with Kashmir should be given some role as far as reaching out to separatists is concerned. I would also suggest New Delhi to start a dialogue.
Biplob: What's your view on separatists rejecting talks with the all party delegation and setting up pre-conditions?
Prof Wani: As for a long time channels of communication were closed, the talks are needed to be held and it is a responsibility on both sides. But for the talks to begin formally, a secure environment needs to be created in Kashmir. The all party delegation went to Kashmir and after the separatists refused to take part in the meeting, the delegates on their own call went to meet the Hurriyat leaders at their place. It was more of a courtesy call on their part.
Biplob: PM's offer of giving more political autonomy to Kashmir has had a very tepid response. Is autonomy not the correct solution to break the impasse?
Prof Wani: As per autonomy is concerned, it is the concern of the government in power. PDP also talks about self-rule, they even say to extend it to across the Line of Control (LoC). They call it a confidence building measure and same views were also shared by the former Pakistan president Pervez Musharraf and moderate Hurriyat. There are people who talk about greater autonomy, but the important issue is to start dialogue process and build a consensus between different political groups. Let us not prejudge what can be the best situation. We should first sort out differences and reach out to different sections and communicate with the Hurriyat. And with the passage of time, some solutions will come up.
Biplob: Being a Kashmiri, what steps do you think should the government take in order to restore peace in the Valley?
Prof Wani: Militancy graph was declining and experts say that there is exhaustion, Kashmiris have exhausted themselves and the youth is disenchanted and dissatisfied.
It is this generation which has actually passed the fear of death. It is the youth which feels cheated by the politicians and abandoned by Pakistan. It feels discriminated as far as Indian state is concerned. So, the aim should be to reach out to the youth.