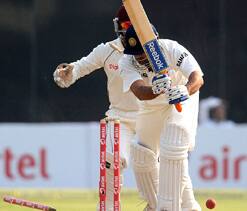 Biswajit Jha
India finally got the monkey off their back…winning a Test match after the forgettable England series. The 'comprehensive' victory at Kotla against a fighting West Indies has again cheered up our friends in media as well as our cricket administrators!
For media, it's like the re-start of 'India's journey towards becoming No. 1 Test team'. Team India not doing well is as much a loss for the administrators as the media. Indian cricket lovers, who form a major chunk of our viewers or readers in the country, are indispensible after all!
Can we call the victory at Kotla as the start to our ascendancy once again? Is it a big deal in winning against a hapless team, which is a notch better than Bangladesh or Zimbabwe, in India on a pitch which is tailor-made for the home team's spinners?
Whatever the end results reflect, the 5-wicket win at Kotla is a victory Dhoni and Co would want to forget sooner than later. Most of our batsmen struggled throughout the first innings, and the team was again bowled out cheaply.
Though the spinners have done well in the match, we don't know for sure whether it's a true test for them. It's anybody's guess whether Ashwin or Ojha will be able to churn out wickets in foreign conditions, say in the next tour of Australia.
Apart from the 4th day, West Indies were always in the hunt. Our supremacy at the home conditions has never been in doubt. We have defeated the best of the best on our own soil. It's one of the few examples where we are struggling to win comprehensively against a team sitting as low as 7h in the ICC Test rankings!
There is hardly any doubt that India would win the series 3-0. The results would definitely make Indian cricket administrators happy as they would bask in the new found glory after the team's pathetic show in England just a couple of months back. This series would definitely throw up a perfect opportunity for them to again make some fatal mistakes which they made before the England tour.
Instead of scrutinizing the performance of the English tour, like what Australia did for their poor performance recently, they waited for this opportunity as a remedy. They hoped that everyone would forget the battering they received at the hands of England team in Tests after India's 'superb show' against the 'great' West Indian team.
People have already started showing their antipathy towards cricket in India. Unthinkable scenarios like empty stadiums in India are common these days. Looks like the BCCI has taken our cricket fans granted for too long…