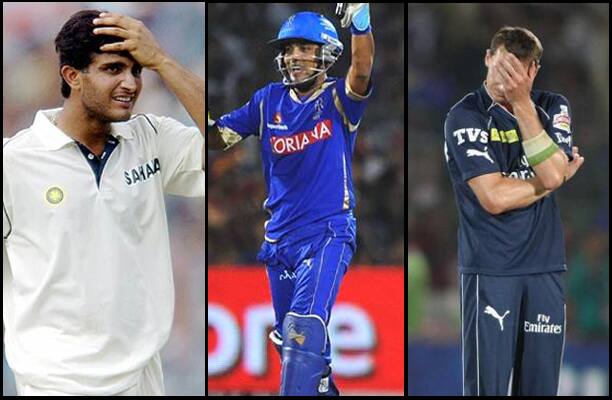 Biswajit Jha
He likes to thrive under pressure. He enjoys being in situations where he needs to finish a cricket match with a four or a six. Coincidence it may sound, it is how Rajasthan Royals wicketkeeper-batsman Dishant Yagnik has always been in the news.
When he hit those two fours in the last over of the match off Deccan Chargers' Dale Steyn to help Rajasthan Royals win a cliffhanger, people might have thought that it was a fluke. But those who like to follow developments in domestic cricket know that he has done that before too. Way back in 2006, as a central zone player, against East Zone, he slammed Sourav Ganguly for a six off the last ball of the match to win a thriller for his team.
So when he was facing Steyn in the last over on April 17, Rajasthan, who were chasing a huge 197 for victory, needed 8 runs off 4 balls. It was his first match of IPL 5 and he had just joined Brad Hodge in the middle and had played only a ball before that. The Australian, who was playing a blinder, unbeaten on 48 off 21 balls, was at the non striker's end. Everybody thought World's premier fast bowler would pounce upon little known Yagnik.
What was going on in his mind at that time? What was Hodge's advice? "Actually Hodge initially asked me to give the strike back to him as he was playing so well. But he also told me that if Steyn bowls in the 'slot', go for a boundary," he told Zeenews.com over phone from Jaipur.
Wasn't he feeling the heat of facing world's fastest as well as the best bowler? Anyone in his situation would have been tensed. But Dishant was not someone who would buckle under pressure and choke. "I like these situations -- when you need to score 12 off the last 4 balls, or 5 or 6 off the last ball. I have faced such situations in the past. So I was confident that I could do it. If I can't hit a boundary, at least I would give the strike back to Hodge."
"When I took guard, I thought that I needed to hit the ball hard even if I was to take singles. So why not go for a boundary. And as luck would have it, Steyn bowled that ball outside the off-stump. I slashed hard and the ball reached the boundary like a tracer bullet." He described it as if he was still in the middle of that match.
The boundary made him confident. "I was ecstatic. It made my job easier. The next ball I just timed it through the cover region for a four," said the Rajasthan wicketkeeper who had scored his maiden hundred in the Ranji Trophy quarter-final this season despite making his debut for Rajasthan way back in 2004.
From the very beginning the 28-year-old lad from Banswara, a small town of Rajasthan, was seen as someone with a special talent. But for some reasons or others he could never cement his place in the Rajasthan Ranji team and remained an understudy to regular stumper Rohit Jhalani.
At that time he needed regular chances to show his talent. There was no IPL then. Earnings from playing domestic cricket, and that too by a player who was in and out of the team, was not sufficient. Like several other domestic players he joined the Indian Cricket League in 2008 and faced the wrath of the BCCI. He was banned. The dream of playing for India was shattered.
Does he regret now? "No…never." Because for the first time in his cricket career, he got regular chances to showcase his talent at a bigger stage. Playing for Delhi Giants, he came into contact with some of the greats of the game. "For the first time in my life", said the dashing left-hander, "that I got the opportunity to play with the international stars, and to be very honest, I learned so many things from them."
Ask him about the present IPL experience he will tell you that this is also a blessing for many a youngsters like him who don't play for the country. "IPL is great. Like ICL the junior members get the opportunity to interact with the international stars and learn from them."
"I personally learnt a lot from (Brad) Hodge, (Johan) Botha, (Owais) Shah. Their attitude, their never say die approach…there are so many things to learn from them."
Life has really come full circle for Dishant. Once being banned, he can now dream of playing for India. One more good season in the domestic circuit or one good IPL season, he can push his case for the selection in the Indian team. But he is not thinking on those lines as of now. "I am just taking life as it comes, thinking about only the next game. I want to enjoy the present, want to enjoy my cricket. I don't want to pressurize myself thinking about the India cap because I know if I am destined to play for India, I will definitely play," he signs off with these philosophical words.
Who knows, the last two balls he played against Dale Steyn might have already changed his life!