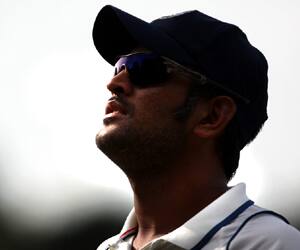 Chayan Rastogi
Call him a gambler, call him a magician, call him an intelligent machine or call him simply, as most of his critics name him- a lucky captain; Mahendra Singh Dhoni, with another championship title under his belt, has earned the stamp of being the most successful leader of the contemporary era.
They say that a captain is as good as his team but in a tournament like Champions League, where every team was a champion in one way or the other, and rarely any team had scarcity of options, Dhoni piped all his compatriots and managed to pull one masterstroke after another from his hat to outclass others.
Being close to the stumps, wicketkeeper is one person who is in the best position to examine a batsman's stance, body language and everything that is going through his mind; and this is what makes MSD an effective leader on the field.
Often criticized for what people misunderstand as stubbornness, MSD has always been a great admirer of spin attack. Rarely you'll see Dhoni giving his spinners a defensive field in ODIs and Tests, and his liking for using R Ashwin inside powerplay during IPL and now Champions League shows the confidence he generates in his spin bowlers.
Not a magician himself, Dhoni has also seen few instances where his backing of bowlers has misfired. His continuous use of Ravindra Jadeja in T20 World Cup and Ashwin in a super over against Victoria in Champions League received immense flak from his critics but unfazed by criticism, Dhoni has backed his instincts and shown his mettle with a smile.
Coming from a rare breed of cricketers who excel in application of limited talent, Dhoni has shown top leadership qualities and with three major trophies - Inaugural ICC T20 World Cup, IPL-III and now Champions League T20 - has proved his critics that his success is no fluke.
Dhoni is one guy who does his bit to the situation and leaves the rest to fate. His greatest strength is that he does not try to control everything on the field. Rarely you'll see Dhoni showing his emotions on field and this makes his players feel very secure.
He is not the one of genre of Ganguly, Border or Naseer Hussain who outwardly made animated moves but is the one who quietly encourages his bowlers. All a bowler need is the faith of the captain, and Dhoni makes sure that he does not miss out on this crucial factor.
Apart from the captaincy, Dhoni has fine-tuned his game too, becoming a safe keeper and a batsman capable of shifting the gears as he pleases. From a player who was known to play unconventional lofts and horizontal bat on-drives, MSD has transformed to a more sober and utility cricketer. His mastery of the 50-over game is revealed by a batting average that remains over 50 after more than 170 games.
Dhoni's rise to fame has been meteoric, but it is more than his luck that brings him this credit. Under his leadership India has unceasingly done better on foreign grounds and victory in countries like New Zealand and South Africa, and claiming numero uno ICC Test ranking has been his feat.
Much was said about his captaining ways after India got knocked-off from T20 World Cups in 2009 and 2010, but the way he has pulled up the socks with IPL and Champions League win this year, MSD seems to be on a mission to prove many more wrong.
Not so sure about familiarity, but success definitely breeds contempt and Dhoni knows that unless he brings the cricketing glory to his shelf, criticism would never end.
Will Dhoni be able to confound his critics one more time?
The entire world is watching.