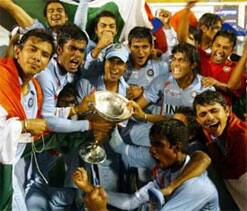 Feroz Khan
It is one thing to bask in the glory of a world cup winning performance and another to face the challenges and meet the expectations raised thereafter. For many representing the India U-19 teams over the years, it has been their only chance to don the blue jerseys for the country with the eyes of the cricketing world set firmly on them. The ecstasy of excelling at the top level and facing the media post World Cup triumph is a dream for the colts. How well they cope with this new found fame is what outlines the transition from being boys to men. The same is valid for the current India U-19 squad that recently returned home after dethroning defending champions Australia on their own turf Down Under.
Leaving behind their successful world title winning campaign, another tough but much more rewarding journey awaits these young cricketers hoping to don the national colours again for the senior team. The harsh reality is that not everyone is going to realise this dream and only few will have the ultimate high of playing in a packed roaring stadium with the prayers of a billion wishing them all the luck in the world. The road to national team is not as smooth as it seems for there are examples of many lost in transition who in the past played a vital part in bringing home the World Cup trophy at the junior level.
Zeenews.com takes a look at some of the names that crept up after Virat Kohli-led India won the 2008 ICC U-19 World championship in Malaysia but who failed to cement a permanent place in the senior side.
Napoleon Einstein: Napoleon Einstein is an opening batsman from Chennai who featured in just one game for India during the U-19 WC.
He bowled two overs and gave away 22 runs in the league match against South Africa.
The 23-year-old scored 92 on his debut List-A match for Tamil Nadu while opening the innings against Kerala. He was then dropped from the team after featuring in one more game in which he scored just 1. He was picked by IPL franchise Chennai Super Kings in the 2008 auction.
Siddarth Kaul: A right-arm pacer, Siddarth Kaul belongs to a family of cricketers. His father, Tej Kaul and brother Uday Kaul both have played in first class circuit.
Siddarth took 10 wickets in the 2008 U-19 WC and was the joint 10th highest wicket taker of the tournament. He is not an express bowler but known for his accurate line and length. Representing Punjab in the Ranji Trophy, he took five wickets in his debut match in the 2007/08 season.
He represents Kolkata Knight Riders in the IPL and is yet to feature in a match for the outfit.
Taruwar Kohli: Taruwar Kohli was the third top scorer for India and fifth overall at the 2008 U-19 world cup with 218 runs. And this came when he was opening the innings for the first time which is enough proof of his ability, flexibility and willingness to adjust as per the requirements of the team.
In all, he scored three fifties and was instrumental in ensuring at least a decent start to the Indian innings.
He has represented Rajasthan Royals and Kings XI Punjab in IPL.
Abhinav Mukund: Though Abhinav Mukund played in just two matches for India U-19 team at the 2008 WC, blame his poor form with the bat, he made it a point to prove himself and it was just a matter of time before selectors took notice of him. He left behind disappointment and scored heavily in the domestic circuit.
His penchant for scoring runs in abundance is clear from the fact that he has a triple century and a stand of 462 runs for the first wicket with Murali Vijay to his name.
The opening batsman represents Tamil Nadu in the Ranji Trophy while he is signed with Chennai Super Kings for the IPL.
The southpaw made his Test debut against West Indies in 2011 after both the Indian openers-Gautam Gambhir and Virender Sehwag opted out of the tour owing to their injuries.
Ajitesh Argal: Ajitesh Argal was the man of the match in the final as it was his medium pacers that strangled South African batting before rain came to halt their proceedings. He took 2/7 in his five overs which was instrumental in handing India their second ever U-19 world championship.
He took eight wickets in six games for India during the tournament. He represented Madhya Pradesh at U-14 level and plays for Baroda in the Ranji Trophy.
He was signed by IPL franchise Kings XI Punjab during the 2008 season and is yet to feature in a match for the Mohali-based outfit.
Saurabh Tiwary: Saurabh Tiwary was the fourth highest run-getter for India in the 2008 U-19 World Cup with 115 runs.
He was signed with Mumbai Indians before joining RCB in 2011. The southpaw became a hot property in the IPL auctions after his consistent show with the bat for MI with three half-centuries to his name.
He represents Jharkhand in Ranji Trophy and has played in 23 first class matches scoring 1,707 including six centuries.
The 22-year-old has failed to replicate his form for RCB since joining them after being bought for USD 1.6 million leading critics to dub him as a million dollar liability.
He is also one of the few lucky ones to have got a chance to represent the senior side in ODIs.
Shreevats Goswami: Shreevats Goswami played as a wicketkeeper/batsman and opened the innings in the 2008 U-19 World Cup. He struck two half-centuries with a high score of 58. The highlight was his 51 runs against New Zealand in the semis in demanding circumstances.
He signed for IPL franchise Royal Challengers Bangalore before making his first class debut for Bengal in 2008. He has so far played in 12 first class matches scoring 434 runs at 25.52. In 29 List A matches he has scored 1133 runs at 41.96.
Tanmay Srivastava: Tamnay Srivastava was the top scorer of the 2008 U-19 World Cup tourney scoring 262 runs at 52.40 including two 50+ scores.
He was also the top scorer in the final with 46 runs as India were bundled out for 159.
Opening for Uttar Pradesh in the final of the Ranji Trophy (2007-08) against Delhi, Srivastava slammed a ton. However it came in a losing cause as Delhi won the encounter by nine wickets. The following year he emerged as the leading run-getter for the side.
He has been a part of three different IPL franchises including Kings XI Punjab, Kochi Tuskers and Deccan Chargers.
Pradeep Sangwan: Making his debut for Delhi, Pradeep Sangwan's first season (2007-08) in Ranji Trophy proved to be a fruitful one that earned him 33 wickets at 19.24. The left-arm pacer was duly rewarded for his effort and joined the U-19 Indian squad for the 2008 World Cup in Malaysia.
He took eight wickets in six matches including a five-wicket haul in a group stage match.
He represented Delhi Daredevils in the first three seasons of IPL and now is with Kolkata Knight Riders.
Manish Pandey: It took one innings to get noticed and Manish Pandey`s chance of hogging the limelight came when he became the first ever Indian to crack a century in IPL.
A middle-order batsman, Pandey scored his runs at a quicker pace than is expected from someone batting in this particular position. It is this reason that he has also opened the innings in IPL.
Playing for Karnataka in the domestic circuit, Pandey has scored 2510 runs at 54.56 with a highest score of 218. He currently represents Pune Warriors in IPL.
Iqbal Abdulla: Left arm spinner Iqbal Abdulla played a vital role in the 2008 U-19 WC where he took 10 wickets at 13. He currently plays for Mumbai in the Ranji Trophy while he is signed to Kolkata Knight Riders.
He was the 2011 IPL`s "Emerging Player" of the tournament.
The southpaw is also a useful lower order batsman. A century and seven fifty plus scores with a high score of 150* in the first class circuit are a testament to his batting abilities.