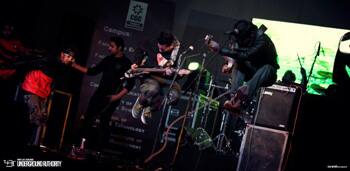 Ananya Bhattacharya
Most of their songs are like daggers through your heart. They work to inspire, they aspire to lead, and they dream to revolutionise the youth of the country. Meet Underground Authority. With their roots in Kolkata, this team of five has already carved a niche for themselves in the contemporary rock scene of the country. Yet, somewhere from beneath their garb of 'rockstars', the youngsters still peek through.
The band is led by frontman Santhanam Srinivasan Iyer, fondly referred to as EPR (Emcee/Poet/Lyricist) by his bandmates and fans. Lead guitarist Adil Rashid is a well-known name among the good guitarists of the country. He has recently received an endorsement from Gibson Guitars, and with his precious (both literally, and otherwise) Les Paul, he makes sure that the crowd sways to the tunes of his guitar. Kuntal De, the Rhythm guitarist of the band, is known for most of the jumps on stage. That, of course, is buttressed by the brilliant way in which he plays his guitar. In his words, without his guitar, he 'would be nothing'. Soumyadeep Bhattacharya, aka Bubbla, is the Bassist. His liaison with the guitar has seen consummation several times now. On stage, Kuntal and Bubbla are known for creating fire out of music. Cut to the drummer. Do not be deceived by his lean frame. Sourish Kumar is the guy who is single-handedly responsible for all kinds of percussion on stage. This pentacle of a band comprises these five.
I had the pleasant – or should I say, 'unsettling' – opportunity to be a witness to the act of these tweens a while back. They took the stage by a storm, rocked the audience like a tornado, and left the stage calmly – their job done, like the calmness that follows after a storm has wrecked everything. In this case, it was the consciousness of the crowd that had been jolted awake.
My conversation with the five was centered mostly on the kind of music that they have chosen to pursue. Snippets from the same:
You are one of the first bands in the country to come up with the alternate rock/rap rock style of music. We have heard voices of repressed individuals in your music. 'Microphone' is one example that comes to my mind. What made you choose this form of music?
Soumyadeep: Well, it's mainly because of the music we have listened to over the years. Rap music has always been about protest and standing up for yourself, thus we found this organic balance between the music and the lyrics, which led to our genre "protest poetry", which, incidentally, is only used by Bob Dylan and Rage against the Machine. However, to be very honest, we selected rap as our main game because we had a guy who could rap-as simple as that!
Your music, we've heard, is to 'express, and not to impress'. Your expressions, sure, have made a dent in the minds of the people who have heard you. What sort of music, would you say, impresses you?
EPR: Any form of music that expresses itself completely and limitlessly, impresses us. But to name a few artists we are really fond of, they are Eminem, Rage against the Machine, Pantera, Iron Maiden, Megadeth, Metallica, Infected Mushroom, Linkin Park, Limp Bizkit and so on.
Socio-political messages, anti-Capitalism agendas and protest poetry form the fulcrum of your music. Would you designate that as the reason behind the connectivity of your music?
Adil: Yes, we would. Seeing and being aware of what all is happening around us, we believe that it is our duty to bring socio-political issues on stage. We are not a political band; we just like to voice our opinions freely and fearlessly. We let music step up, and we follow... Apart from the issues, we also write songs on everyday life and yes, on `love` too!
As far as the mainstream music of the country is concerned, your band is not very old. But the fact that you churn out music that is noticeably different from other bands is sure a feather in your hat. Were your initial days difficult?
Sourish: Yes, difficult would be an understatement. We started off like any other original act; however we did have a collection of obscurely interesting covers which were always liked by the people. The thing that we miss the most now, however, is doing college competitions. College competitions contributed greatly to our popularity and our fund back then. When you choose to walk on this path, it's unbearably difficult in the beginning. In fact, that is where most quit. However if you can get past that, you too will believe and swear by the notion – "rock n roll for life"!
A few days back, a considerable portion of the rock-lovers of the country saw you sharing stage with the legend of our times, Rudolf Schenker of Scorpions. How would you describe your feeling playing with one of the most prominent stalwarts of the contemporary music firmament?
Kuntal: This is a very difficult question to answer... It was an experience we can't express in words! We jammed 'Rock You like a Hurricane' with Rudolf Schenker. We remember it more as a dream than an experience. We would say that we are very lucky to have played a song that all of us are crazy about, with the person who composed it... How many times does that happen!
All of you are pretty young. To start out with music that has a strong message to deliver doesn't exactly appear very 'young' – going strictly by the stereotypical sense of the term. Was it a conscious decision to break away from the norm?
EPR: The idea was not to break away just to show that we are different. We believe that the youth has immense potential, and we cannot just be pushed to the side because we are young. Our songs `I Can Lead A Nation With A Microphone`, `Grab`, `We Kill G.I.Joes`, and `Realise` deal with the youth and their issues. Even our tagline – 'Inspire, Lead, Revolutionise' – deals with the similar idea of breaking out of the regular norm that the youth is expected to follow, and establishing a new and free thought process.
Your songs have been motivational, at times outright aggressive. There's a strange push in each of your songs, they give one the feeling that somewhere, something is not happening the way it is supposed to be. Are we looking forward to more such masterpieces from you?
Kuntal: Well as far as masterpieces go, we don't know, but more songs about the said agenda – definitely! Aggression and rebellion is a part of any student`s life, and all of us are just out of college. That aggression is still there, and we are not letting it go anytime soon.
Finally – say in just about five or six words – how would you describe your trajectory as a band?
Soumyadeep: We've taken off at an immense velocity, and our aggression and energy fuels our flight further. We're looking straight up, and we're letting the world bask in the afterglow of our follow through…