બોક્સ ઓફિસ પર આલિયા ભટ્ટની 'રાઝી'ની ધડબડાટી
બોલિવૂડ એક્ટ્રેસ આલિયા ભટ્ટ અને એક્ટર વિક્કી કૌશલની ફિલ્મ 'રાઝી' 11 મેના દિવસે રિલીઝ થઈ હતી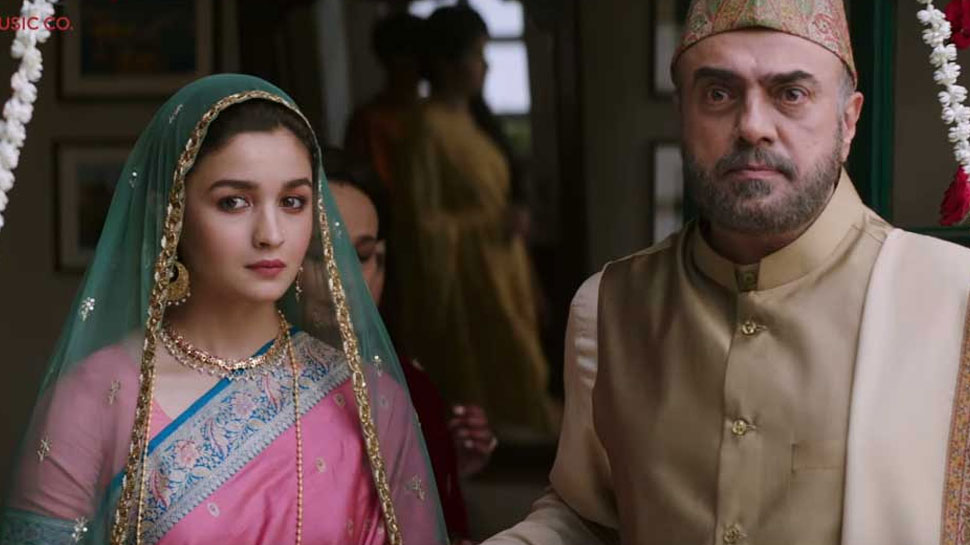 મુંબઈ : બોલિવૂડ એક્ટ્રેસ આલિયા ભટ્ટ અને એક્ટર વિક્કી કૌશલની ફિલ્મ 'રાઝી' 11 મેના દિવસે રિલીઝ થઈ હતી. આ ફિલ્મને ક્રિટિક્સે વખાણી હતી અને ફિલ્મમાં આલિયા તેમજ વિક્કીની એક્ટિંગના સારા એવા વખાણ થયા છે. આ ફિલ્મ બોક્સઓફિસ પર ધમાલ મચાવી રહી છે અને સારો બિઝનેસ કરી રહી છે. શુક્રવારે રિલીઝ થયેલી આ ફિલ્મે બુધવાર સુધી 50 કરોડ રૂ. કરતા વધારે બિઝનેસ કરી લીધો છે. 
ભોજપુરી 'સની લિયોની'ના આ VIDEOએ મચાવી ધમાલ, જુઓ - 'દારુ બિહાર મેં બૈન...'
ટ્રેડ એનાલિસ્ટ તરણ આદર્શે ટ્વીટ કરીને કહ્યું છે કે,'''રાઝી' ઇઝ અનસ્ટોપેબલ...બોક્સઓફિસ પર 50 કરોડ રૂ. કરતા વધારે બિઝનેસ કર્યો.  ફિલ્મનં કલેક્શન ધીમું નથી થયું. શુક્રવારે - 7.53 કરોડ, શનિવારે - 11.30 કરોડ, રવિવારે- 14.11 કરોડ, સોમવારે- 6.30 કરોડ, મંગળવારે - 6.10 કરોડ, બુધવારે-5.90 કરોડ. અત્યર સુધીનું કુલ કલેક્શન 51.24 કરોડ.'
#Raazi is UNSTOPPABLE... Crosses ₹ 50 cr mark... Have a look at the trending on weekdays - the biz is not going to slow down soon... Fri 7.53 cr, Sat 11.30 cr, Sun 14.11 cr, Mon 6.30 cr, Tue 6.10 cr, Wed 5.90 cr. Total: ₹ 51.24 cr. India biz.

— taran adarsh (@taran_adarsh) May 17, 2018
આ ફિલ્મની કહાણી 1971માં ભારત અને પાકિસ્તાન વચ્ચે થનાર યુદ્ધ પર આધારિત છે. ફિલ્મની કહાણી હરિંદર સિક્કાના ઉપન્યાસ કોલિંગ સહમત પર આધારિત છે અને ફિલ્મની કહાણી રિયલ સ્ટોરી પર આધારિત છે. ફિલ્મમાં આલિયા એક કાશ્મીરી છોકરી 'સહમત'નું પાત્ર ભજવશે જેના લગ્ન પાકિસ્તાની સેનાના અધિકાર સાથે થાય છે. વિક્કી રાઝીમાં એક પાકિસ્તાની સેના અધિકારીની ભૂમિકામાં છે. ટ્રેલરની શરૂઆતમાં આલિયા એક સીધી સાદી સામાન્ય છોકરીની માફક નજરે પડે છે પરંતુ ધીરે ધીરે તેની જીંદગીમાં ફેરફાર આવે છે.