नई दिल्‍ली: बॉलीवुड एक्‍ट्रेस कृति सेनन हाल ही में अपने एक नए फोटोशूट के‍ लिए सोशल मीडिया पर ट्रोलिंग का शिकार हो गई हैं. इस फोटोशूट में कृति एक मृत जिराफ के साथ पोज देती नजर आ रही हैं. कृति ने यह कवर शूट एक मैगजीन के लिए कराया था, जिसे इस मैगजीन ने ही अपने इंस्‍टाग्राम पर शेयर किया. लेकिन इसके बाद से ही कृति को इसके लिए ट्रोल किया जाने लगा. कई एनिमल लवर्स को कृति का ये अंदाज बिलकुल पसंद नहीं आया है.
दरअसल इस तस्‍वीर में कृति के पीछे नजर आ रही बड़ी सी खिड़की पर लटकता हुआ जिराफ नजर आ रहा है. कृति अपने एक साथ से जिराफ का मुंह छूते हुए नजर आ रही हैं. कृति का यही फोटो कॉस्‍मोपॉलिटन मैग्‍जीन के कवर पर भी लिया गया है. वैसे तो कृति ने महिला सशक्तिकरण को बढ़ावा देने के लिए यह कवरशूट कराया था, लेकिन उनका यही अंदाज सोशल मीडिया पर बेहद नापसंद किया जा रहा है.
बता दें कि यह फोटोशूट लंदन के अनहॉय पार्क में किया गया था, जहां कई जानवरों को प्रिजर्व कर के रखा जाता है. यहां प्राकृतिक रूप से मरने वाले जानवरों को टैक्‍सीडर्मी विधि से संजो कर रखा जाता है. हालांकि मैगजीन ने कृति के पोस्‍ट के साथ ही यह भी साफ किया है कि इस शूट के दौरान या बाद में किसी जानवर को कोई आपत्त‍ि नहीं पहुंचाई गई है. कृति को इसक लिए जमकर ट्रोल किया जा रहा है.
Dear @kritisanon and @CosmoIndia fashion and all is fine. But what message you want to give with this taxidermy. Was it really required or is it helping in conservation in anyway, a species which is with 'Vulnerable' status. pic.twitter.com/Htauo5d0Xf

— Parveen Kaswan, IFS (@ParveenKaswan) August 10, 2018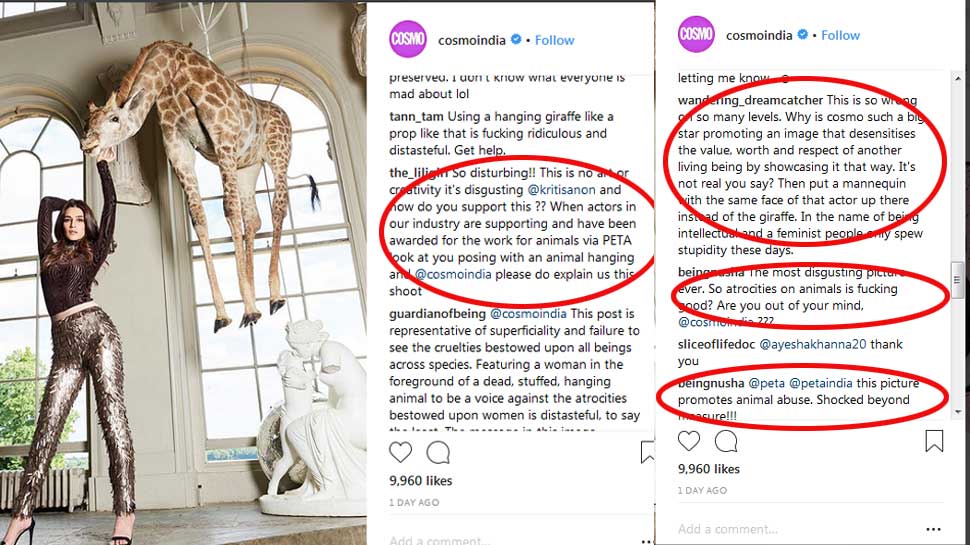 बता दें कि इससे पहले इसी साल मार्च में सोनम कपूर भी लंदन के इस अहोय पार्क में ब्राइड्सटुडेइन मैगजीन के लिए यहां फोटोशूट करा चुकी हैं.
इस सारे विवाद पर चप्‍पी तोड़ते हुए एक्‍ट्रेस कृति सेनन ने अपनी अलोचनाओं का जवाब दिया है. हमारी सहयोगी वेबसाइट डीएनए की रिपोर्ट के अनुसार कृति ने इस सब पर जवाब देते हुए कहा है, 'यह लंदन के होटल जैसे स्‍थान पर कराया गया एक सामान्‍य फोटोशूट था. यह सब पूरी तरह नकली था. मैं भी जानवरों से प्‍यार करती हूं.'