नई दिल्ली: बॉलीवुड एक्टर अभिषेक बच्चन अक्सर ही अपनी फैमिली के साथ नजर आते हैं और हर मौके पर फैमिली को लेकर काफी प्रोटेक्टिव रहते हैं. कुछ वक्त पहले जब ऐश्वर्या की एक फोटोग्राफर ने गलत तरह से ऐश्वर्या की फोटो लेने की कोशिश की तो अभिषेक से उन्हें काफी सुनना पड़ा था. इसी तरह हाल ही में ट्विटर पर एक यूजर ने अभिषेक बच्चन से पूछा था कि क्या आराध्या स्कूल नहीं जाती?
दरअसल, एक यूजर ने ट्वीट करते हुए पूछा था कि, 'क्या आपकी बेटी स्कूल नहीं जाती? मुझे हैरानी होती है कि ऐसा कौन सा स्कूल है जो बच्चे को जब दिल करे ट्रिप पर जाने की परमिशन दे देता है? या फिर आप अपनी बच्ची को ब्यूटी विदआउट ब्रेन बना रहे हैं! वह हमेशा अपनी घमंडी मां के साथ हाथ में हाथ डालकर चलती है. उसका बचपन सामान्य बच्चों जैसा नहीं है'. इस ट्वीट पर अभिषेक चुप नहीं रहे और उन्होंने यूजर को जवाब दिया.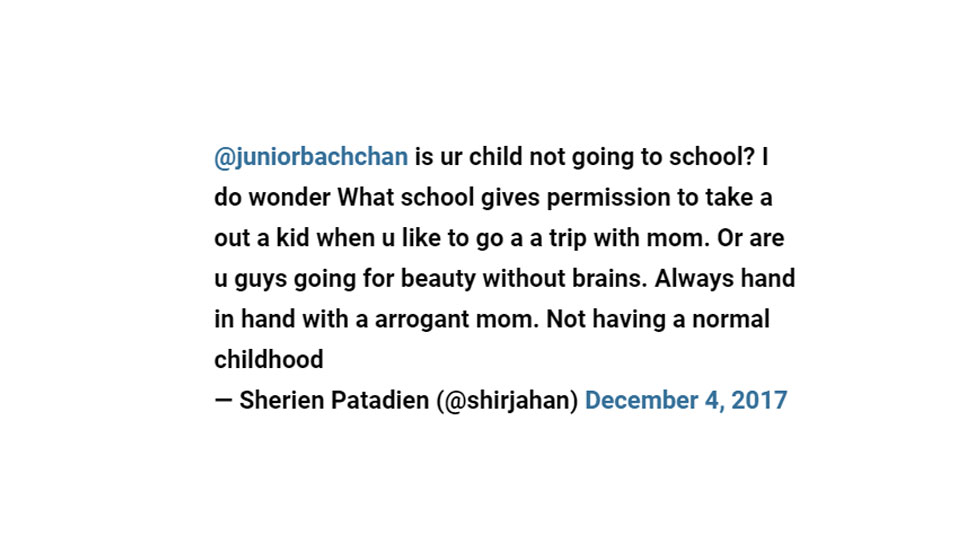 अभिषेक ने रिप्लाई करते हुए लिखा, 'मैम, जहां तक मुझे पता है...ज्यादातर स्कूल वीकेंड पर बंद होते हैं और वह वीक डेज़ पर स्कूल जाती है. आपके ट्वीट में जो शब्दों की गलतियां हैं उसे ध्यान में रखते हुए आपको भी स्कूल जाना चाहिए.' हालांकि, यूजर ने अभिषेक के इस ट्वीट का बुरा न मानते हुए और मजाक में लेते हुए उनका धन्यवाद किया. 
Ma'am, as far as I know… Most schools are shut for the week-end. She goes to school on the weekdays. Maybe you should try it considering you spelling in your tweet.

— Abhishek Bachchan (@juniorbachchan) December 4, 2017
उन्होंने कहा अधिकतर लोग ऐसा सोचते हैं लेकिन बोलने की हिम्मत नहीं कर पाते हैं. आपको ऐसी तस्वीरें पोस्ट करनी चाहिए जिसमें आपके बच्चे नॉर्मल दिखें, न कि हमेशा मां के साथ हाथों में हाथ डाले नजर आएं.