NEW DELHI: The YSR Congress and the Telugu Desam Party (TDP) are on Tuesday set to pitch for taking up their notices of no-confidence motion against the Narendra Modi-led government at the Centre in the Lok Sabha.
Y V Subba Reddy of the YSR Congress had on Monday written to the Lok Sabha secretariat seeking to move a no-confidence motion in the Lower House of Parliament for its refusal to grant special category status to Andhra Pradesh.
"Under Rule 198(B) of chapter XVII of the Rules of Procedure and Conduct of business in Lok Sabha, I hereby give notice to move the following motion in the House on 19.03.2018," Reddy said in a letter.
The Opposition party in Andhra Pradesh has been protesting in the Parliament over the issue of granting "Special Category Status" to the state.
The ruling Telugu Desam Party (TDP) too reached a deadlock with its longtime BJP ally over this issue and ultimately quit the National Democratic Alliance (NDA) coalition at the Centre on Friday.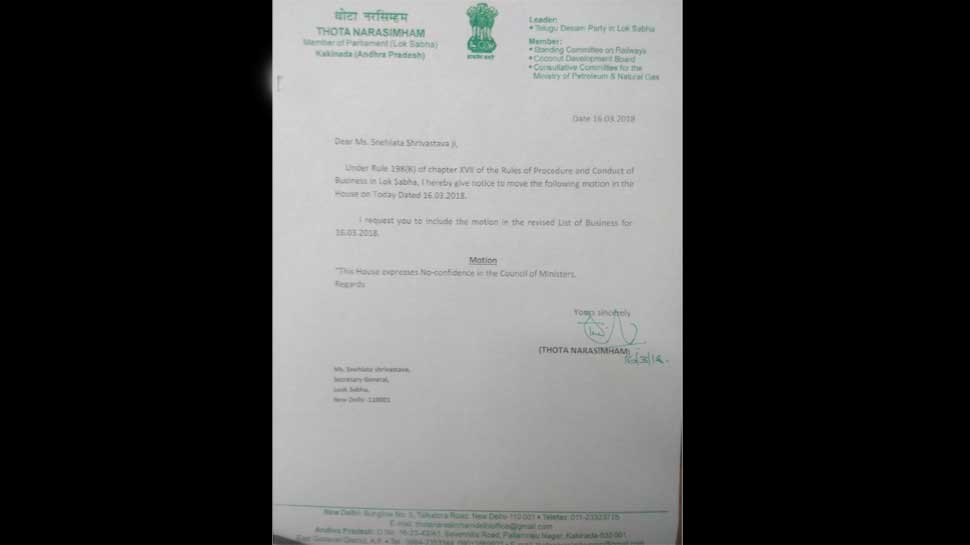 Both parties have been lobbying with opposition parties for support to their respective notices. A no-confidence motion notice has to be supported by at least 50 MPs to be taken up in the House.
The government has expressed confidence that the notices, even if they are admitted, will be defeated given its strength in the Lok Sabha.
(With inputs from agencies)