ಪೋನ್ ನಲ್ಲಿ ಮಾತನಾಡುತ್ತಲೇ ಡ್ರೈವ್ ಮಾಡುತ್ತಿದ್ದ ಚಾಲಕನಿಗೆ ಆಗಿದ್ದೇನು- ಈ ವೀಡಿಯೋ ನೋಡಿ
Updated: Jul 11, 2018 , 07:48 PM IST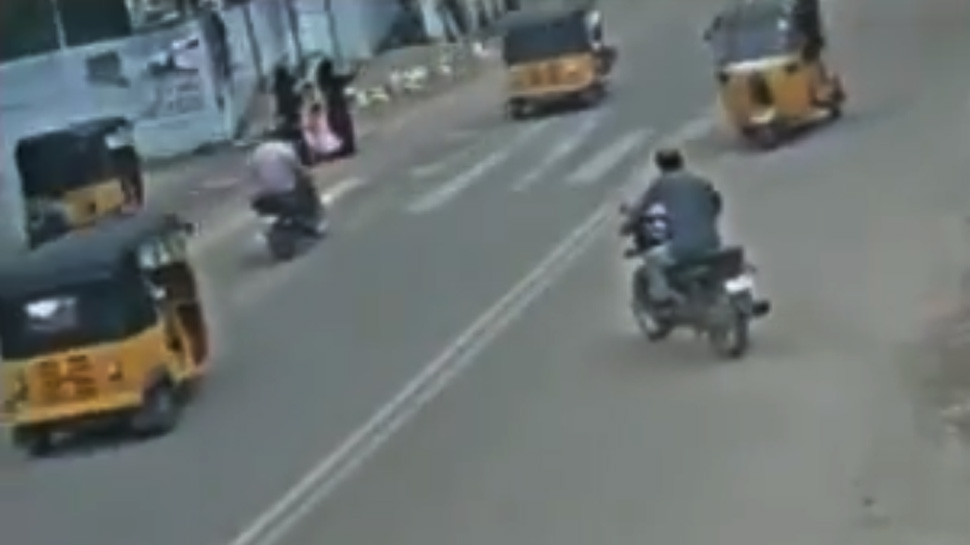 Photo courtesy: ANI
ಹೈದರಾಬಾದ್: ನಗರವೊಂದರಲ್ಲಿ  ಪೋನ್ ನಲ್ಲಿ ಮಾತನಾಡುತ್ತಲೇ ಬೈಕ್ ಚಾಲನೆ ಮಾಡುತ್ತಿದ್ದ ವ್ಯಕ್ತಿಗೆ ಎದುರಿಗೆ ಬಂದ ಮತ್ತೊಂದು ಬೈಕ್ ಡಿಕ್ಕಿ ಹೊಡೆದಿದ್ದರಿಂದಾಗಿ ಬೈಕ್ ಸವಾರನು ಮೃತಪಟ್ಟಿರುವ  ಘಟನೆ ಹೈದರಾಬಾದ್ ನಲ್ಲಿ ನಡೆದಿದೆ.
#WATCH: 35-year-old man riding a two-wheeler crashed into another two-wheeler in Hyderabad when he was trying to move on to the wrong side of the road while talking on cell phone. Doctors have declared him brain dead. Case registered. (09.07.18) pic.twitter.com/1oQQGLzW2F

— ANI (@ANI) July 10, 2018
ಈ ದೃಶ್ಯ ಈಗ ಹತ್ತಿರದ ಸಿಸಿಟಿವಿಯಲ್ಲಿ ಸೆರೆಯಾಗಿದೆ. ಈ ವಿಡಿಯೋವನ್ನು ನೋಡಿದಾಗ ಸವಾರನಿಗೆ ಒಂದು ವೇಳೆ ಹೆಲ್ಮೆಟ್ ಇದ್ದಿದ್ದರೆ ಅಥವಾ ಚಾಲನೆ ಮಾಡುವಾಗ ಮೊಬೈಲ್ ಬಳಸದೆ ಇದ್ದಿದ್ದರೆ ಅವನು ಕಂಡಿತ ಬದುಕಿ ಉಳಿಯುತ್ತಿದ್ದ ಎನ್ನುವುದನ್ನು ನಾವು ಗಮನಿಸಬಹುದು. ಈಗಾಗಲೇ ಪೊಲೀಸರು ಪ್ರಕರಣವನ್ನು ದಾಖಲಿಸಿದ್ದಾರೆ ಎಂದು ತಿಳಿದು ಬಂದಿದೆ.