New Delhi: The BSE Sensex cracked 350 points to break below 33,000 mark in the closing trade while the Nifty fell over 100 points as increased fears of a full-scale global trade war pulled down investors' sentiments.
Investors also remained cautious ahead of the outcome of the Reserve Bank of India's (RBI) first bi-monthly monetary policy stipulated for April 5. The BSE Sensex closed down 351.56 points or 1.05 percent to 33,019.07. The NSE shed 116.60 points or 1.14 percent to 10,128.40.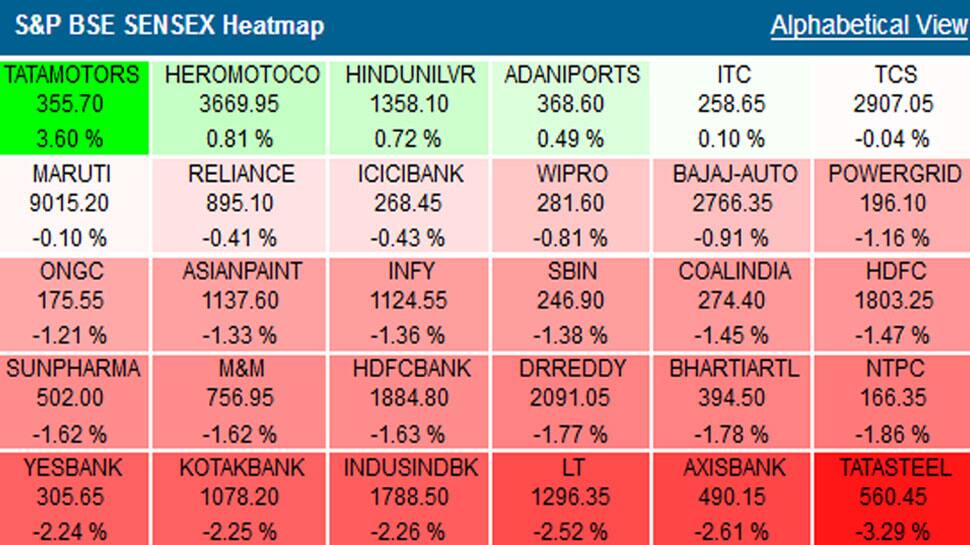 The domestic equity markets reacted sharply to intensifying trade war fears after China announced additional tariffs on US goods as countermeasures to the US administration`s proposed tariffs covering Chinese exports worth $50 billion with a suggested tariff rate of 25 percent. Yesterday, the equity indices closed with appreciable gains, led by gains in banking, auto, PSU and power stocks despite weak global cues.
Markets in Japan and Australia clung on to marginal gains but China, Hong Kong and South Korea dipped into the red, delivering a mixed picture across the region. Tokyo opened strongly but stocks sank throughout the trading day, finishing only 0.13 percent up at 21,319.55. The broader Topix index closed with similar gains. China`s main market, the Shanghai Composite Index, closed down 0.15 percent to end the day at 3,131.84 points, erasing some healthy gains earlier in the session.
With AFP Inputs