New Delhi: As the BJP-led NDA government on Saturday celebrated its two years in office with a gala event at India Gate here, Prime Minister Narendra Modi said, his government was working with determination to fulfil its promises to people.
Celebrating second anniversary of his government, PM Modi vowed to root out corruption and said his government has been able to check leakages to the tune of Rs 36,000 crore in its two years in office.
In his speech at the "Ek Nai Subah" programme, the Prime Minister said a "change" has come in the last two years through good governance.
In a veiled attack on Congress and parties critical of the government, Modi said some parties will only oppose for political reasons.
Without naming Congress, he accused the Opposition party of pursuing the agenda of obstructionism and expressed confidence that people can see through it and find truth.
Recalling the scams and scandals during the UPA governments including in coal block allocation, the Prime Minister said checking the menace of corruption is the focus of his government and people can see it when compared with that of previous dispensations.
"Two things have emerged in the last 15 days. One is 'Vikasvad' (development) and the other is 'Virodhvad' (opposition). What is the reality, people can judge for themselves," he said, stressing attempts should not be made to inject a sense of negativity.
PM Modi said a government's work should be evaluated in reference to the work of its predecessor. Referring to the controversy over coal allocations during the previous UPA government, he said that courts had cancelled licences and there were daily reports in the media concerning scams.
"If we remember the days (of previous government) we will realise how big a change has come about," he said, referring to the coal allocations made during his government.
"I am standing before people of the country with satisfaction. We have been able to to get the trust and enthusiasm of people despite a very minute examination of our work. The trust of people is growing day by day. This also increases our confidence," Modi said speaking at the event "Ek Nayi Subah", which was in a talkathon format spread over nearly six hours.
The Prime Minister said that his government has not taken any decision with "malafide intention".
"I am here to assure you that we are doing everything to live up to the faith people have reposed in us. And the country has seen that no decision was taken with any malafide intention, no effort was spared in working hard and we have dedicated ourselves to people's cause by keeping their and national interest paramount."
"It is true that those who have pocketed money will face difficulties and feel the pinch. Who have pocketed it and when have they pocketed it is not my subject but it is the money belonging to the poor and will not be allowed to go to others," he said.
Also Read: 'Ek Nai Subah' programme: As it happened
Rejecting criticism by Congress, which has said that Modi government has done nothing in the last two years, the Prime Minister said the country has seen that his dispensation has spared no effort in working hard and totally dedicated itself to work for the nation and common masses.
Taking a dig at Congress leader Rahul Gandhi who had got subsidised cylinders increased from nine to 12 during UPA rule, Modi said over one crore people had given up these on his appeal.
"Is it not a change? It is an example of people's participation," he said.
Union ministers showcased their achievements and leading names from Bollywood, including Amitabh Bachchan, espoused social causes at the "Ek Nayi Subah" event at India Gate lawns here on Saturday to mark completion two years of Narendra Modi government.
A range of government initiatives including Swachh Bharat Abhiyan, the Beti bachao beti Padao​, Pradhan Mantrai Ujjawala Yojana, Pradhan Mantri Jan Dhan Yojana and Pradhan Mantri Mudra Yojana were highlighted as well as moves to boost income of farmers and improve rail, road and air infrastructure and provide electricity to all villages.
Finance Minister Arun Jaitley, Education Minister Smriti Irani, Health Minister JP Nadda, Women and Child Development Minister Maneka Gandhi, Minorities Affairs Minister Najma Heptullah, Agriculture Minister Radha Mohan Singh, Rural Development Minister Birender Singh, Water Resources Minister Uma Bharti and Food Minister Ramvilas Paswan were among those who participated.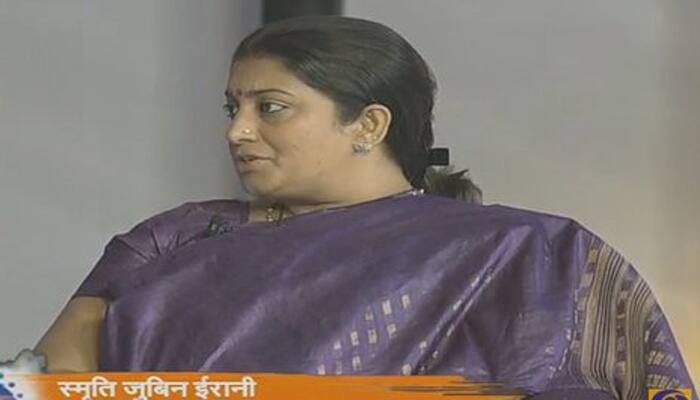 Jaitley said the economy had achieved a growth rate of around 7.5 percent amid global slowdown and dwelt of the measures to bring back black money, moves towards financial inclusion through Jan Dhan Yojana and expanding micro-credit through the Mudra Yojana.
Meanwhile, Amitabh, who is also a United Nations ambassador for the girl child mission, said the girl child should be nurtured, educated and treated as equal and how 'Beti Bachao, Beti Padao' aims at ending discrimination against them.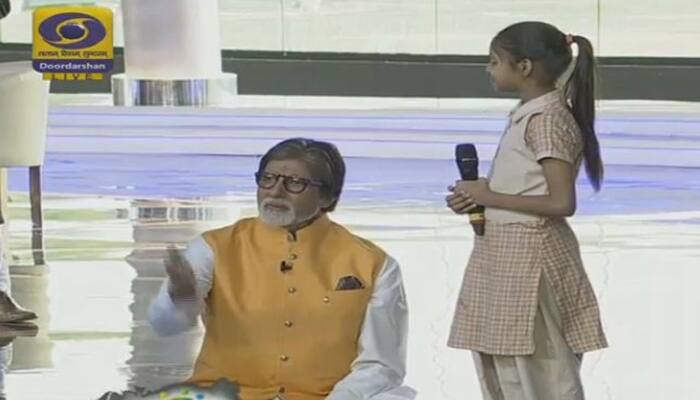 Actor Vidya Balan stressed the need to construct toilets in rural areas, while Raveena Tandon, participating in a panel discussion, stressed how education can lead women towards better living.
Also Read: Amitabh Bachchan urges to educate, give equality to girl child
Transport Minister Nitin Gadkari said the Modi government has changed the style of governance and ended policy paralysis that existed during the previous UPA regime.