Gurgaon: The Jat quota protests in Haryana have severely hit the normal life as at least 8 persons have died so far. Here are all the latest updates:-
- The committee has been asked to submit a comprehensive report to find the solution of this problem asap: 
- A committee has been formed, our cabinet colleague Venkaiah Naidu is its president: Rajnath Singh.
- I would like to request the people of Haryana to cooperate and maintain law & order in the state: Rajnath Singh 
- Centre sets up committee headed by Union minister Venkaiah Naidu to consider demand of jats for reservation in government jobs.
- We hope the decisions taken by the Centre today will have some positive impact: PK Das, Addl Chief Secretary. 
- Curfew has also been imposed in Kaithal city: Additional Chief Secretary (Home) Haryana.
- Rohtak was peaceful today, there were some clashes in Jhajjar and police intervened: PK Das, Adttl Chief Secy (Home) Haryana.
- After meeting with Rajnath Singh, Jat Sangharsh Samiti leader Jaipal Singh Sangwan appeals to end agitation in Haryana, says demands met.
- Centre will set up a high-level committee to look into the Jat reservation issue, says Union Minister Sanjeev Baliyan.
- Haryana BJP incharge Anil Jain says Jat reservation will be cleared in the upcoming Assembly session.
- Haryana police flag march in Bahadurgarh.
- NSA, Army Chief, Delhi Police Commissioner arrive to meet Home Minister Rajnath Singh at his residence over Jat protests.
- Jat and Khap leaders of Haryana & UP arrive to meet Home Minister Rajnath Singh at his residence, meeting underway.
- Jat protesters block Yamuna Expressway and Delhi-Lucknow Highway in UP.  
- Chandigarh-Shimla highway which was blocked by Jat agitators has been opened now
- Roads in west Delhi were blocked on Sunday forenoon by protestors favouring reservation for the Jat community in Haryana. According to a Delhi Police traffic helpline official, protests were held near Nangloi metro station around 11 a.m.
- Haryana Minister Anil Vij on Sunday made it clear that talks cannot be held with a "mob" and said Jats should form a committee to hold parleys with the state government. He said the agitation has become leaderless and "mobocracy" was prevailing
- Situation has comparatively improved, case registered against 191 agitators and around 45 have been rounded up: Haryana DGP YP Singhal on Jat reservation protests
- Delhi Chief Minister Arvind Kejriwal has announced that there is no water left in Delhi and that the crisis is expected to prolong for at least two days, adding that he is in talks with the Haryana government to resume water supply from the Munak canal.
- Centre tells Haryana government to ensure that water supply to Delhi is not disrupted due to Jat quota protests
- Jat and Khap leaders to meet Union Home Minister Rajnath Singh at his residence at 3 PM to resolve the quota agitation 
- Jat reservation agitators vandalise petrol pump in Jind district of Haryana
- Former Haryana CM Bhupinder singh Hooda begins his indefinite hunger strike at Delhi's Jantar Mantar over Jat quota protests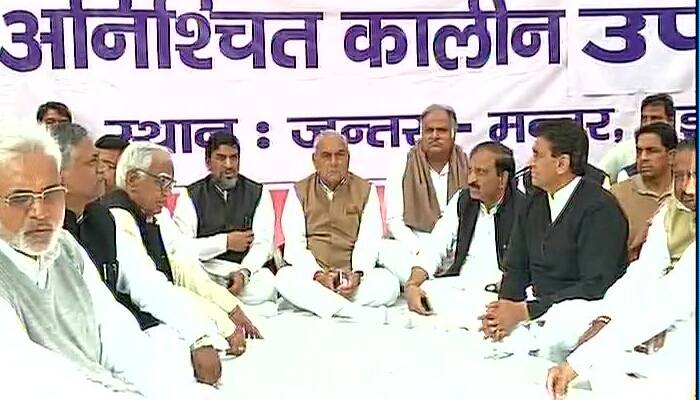 - Ticket counter of Basai Railway Station in Haryana set on fire by Jat reservation agitators on Sunday morning
- Himachal Road Transport Corporation (HRTC) has suspended all bus services on routes passing through Haryana in view of the Jat agitation.
- Arvind Kejriwal-led Delhi government has ordered all private and govt schools in the capital to remain closed on Monday in the wake of water crisis due to Jat quota protests in Haryana
- Staring at a serious water crisis, Delhi government on Saturday had moved the Supreme Court, seeking a direction to the Centre to intervene and ensure water supply to the national capital from Munak Canal in neighbouring Haryana which has been affected due to the Jat stir. Delhi is staring at huge water shortage in next one or two days with 60 per cent of water supply affected due to the Jat stir.
- Reiterating his call to maintain law and order in the violence-hit state, former Haryana chief minister BS Hooda on Saturday said that he will go on a hunger strike from Sunday at the Jantar Mantar in the national capital. He also appealed to all the agitators to fight against the 'divisive forces' trying to create a gulf in the society.
- Chaos reigned in Haryana on Saturday with escalated violence in several areas as hooligans, who have joined ranks of Jat protestors, ran amok, setting afire government and private property and vehicles, blocking roads and highways, disrupting trains and uprooting tracks and indulging in looting.
-  Five more people were killed in Haryana on Saturday as the violence linked to the Jat agitation escalated, forcing the state government to seek additional columns of the army and more companies of paramilitary forces to control the situation. Three people were killed in firing by security forces in Rohtak on Friday.
- Joint teams of the army and police carried out a flag march in Bhiwani town on Saturday, urging people not to come out of their houses as curfew had been imposed and to maintain peace in their areas.