New Delhi: Newly-elected Shiv Sena MLAs met at the Sena Bhavan in Mumbai ahead of Monday's Maharashtra Assembly's session to discuss its strategy after it decided to skip Narendra Modi's Cabinet expansion in the capital on Sunday.
Here are the Live Updates — 
7.35 pm: Shiv Sena press meet ends.
7.34 pm: If in the next 2-3 days we don't get an answer from BJP then we will sit in Opposition : Uddhav 
7.34 pm: Don't want Hindutva votes to divide, hence I am taking a soft stance: Uddhav 
7.33 pm: If the BJP and NCP join hands, Shiv Sena won't hesitate to vote against them: Uddhav
​7.33 pm: I am not desperate (to be a part of any government), 'ekla chalo re' not new to me: Uddhav  
7.32 pm: Sharad Pawar was the reason why Atal (Bihari Vajpayee) ji's government fell in 13 days. And now BJP wants to take NCP's support: Uddhav 
7.32 pm:  It is unfortunate that Suresh Prabhu chose to join BJP: Uddhav 
7.31 pm:  When Atalji asked Balasaheb to name a minister he mentioned Suresh Prabhu's name: Uddhav 
7.30 pm: Had everything gone well, Anil Desai would have taken oath in the Union ministry today: Uddhav.
7.29 pm: Won't be part of any government if Shiv Sena is not given its due: Uddhav 
7.28 pm:  Shiv Sena will always follow Hindutva agenda, even if BJP goes with NCP: Uddhav 
7.27 pm: Uddhav says Sena's stand to support BJP will be clear after Vidhan Sabha speaker is elected by November 12.
7.26 pm: On Anant Geete's participation in Modi Cabinet, Uddhav Thackeray says, "I'll take the right decision at the right time."
7.25 pm:  We want stable govt in state but won't tolerate designs to split Maharashtra: Uddhav Thackeray
7.24 pm: Even today Sena is not in favour parting ways with BJP: Uddhav Thackeray.
7.23 pm: All Hindutva forces should stay together but if BJP goes with the NCP then we have to part ways: Uddhav Thackeray
7.20 pm: Sharad Pawar was first to coin the term 'saffron terrorism', and it's unfortunate that BJP is now willing to take his party's support: Uddhav
7.19 pm: Will serve people whether in power or not: Uddhav Thackeray
7.18 pm: Eknath Shinde elected as Shiv Sena's legislature party leader in Maharashtra Assembly
7.05 pm: Meeting culminates, Sena leaders begin to gather for the press meet.
6.40 pm: Sources say Sena likely to sit in Opposition in Maharashtra Assembly.
6.30 pm: Reports suggest supporters outside Sena Bhavan are indulging in loud sloganeering against the BJP.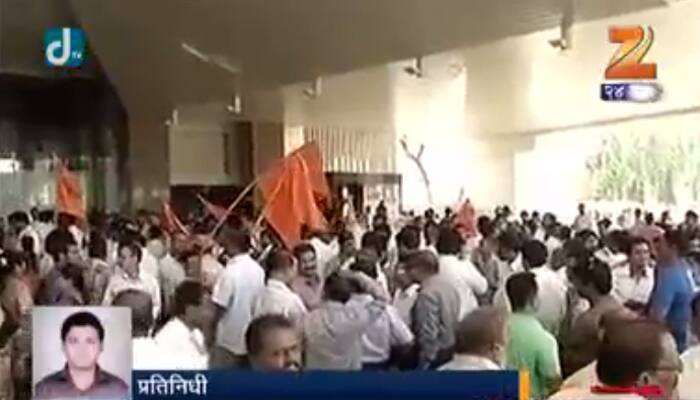 6.20 pm: Uddhav Thackeray to address scribes shortly.
6.00 pm: Sena supporters welcome Anil Desai on his return from Delhi.
5.50 pm: Uddhav Thackeray arrives to meet party MLAs at Sena Bhavan.
Shiv Sena's tense relations with its erstwhile ally — the Bharatiya Janata Party — reached its nadir today as Sena MP Anil Desai failed to take oath as Union Minister amid talk that Uddhav Thackeray will pull the party out of the government at the Centre and play Opposition in Maharashtra.
Desai, who was rushed to the national capital to reach here in time for the swearing-in, went back from the Delhi airport itself, apparently due to failure of BJP to address Sena's demands for ministerial berths in Maharashtra.
Geete had tried in vain last night to meet the Prime Minister after which he was asked by the Sena leadership to come to Mumbai.
Geete had said yesterday that it was not clear if Sena would be part of the ministry expansion but this morning there were enough hints from the party that Desai will be taking oath and had left Mumbai to attend the swearing-in ceremony.
Sena wanted the BJP to sort out unresolved issues over it joining the Devendra Fadnavis government in Maharashtra first.
The Sena chief has demanded that his party should be inducted into the Fadnavis government before it faces the trust vote.
Thackeray's meeting in Mumbai was significant as party legislators were attending it on the eve of the Maharashtra Assembly session in which the BJP government will seek trust vote.
Fadnavis attended the swearing-in along with several other BJP chief ministers today.
Shiv Sena has been the oldest ideological ally of the BJP in the NDA but their 25-year-old alliance in Maharashtra collapsed ahead of the recent assembly polls over seat-sharing issue.
With Agency Inputs