New Delhi: Posters have emerged in Uttar Pradesh showing Congress vice president Rahul Gandhi as 'singham' ahead of Assembly Elections in the state in 2017.
A few days ago, posters and hoardings of former Uttar Pradesh chief minister Mayawati in the form of Hindu goddess Kali and holding the chopped off head of union Human Resource Development Minister Smriti Irani had surfaced in Hathras, leading to a political furore.
Earlier, Uttar Pradesh BJP's newly-appointed state president Keshav Prasad Maurya was depicted as Lord Krishna and his rivals, including Chief Minister Akhilesh Yadav, as Kauravas in posters hoardings in Varanasi.
In the fresh posters released by Congress workers in Gorakhpur, Congress vice president Rahul Gandhi is seen donning police uniform.
Here's the poster: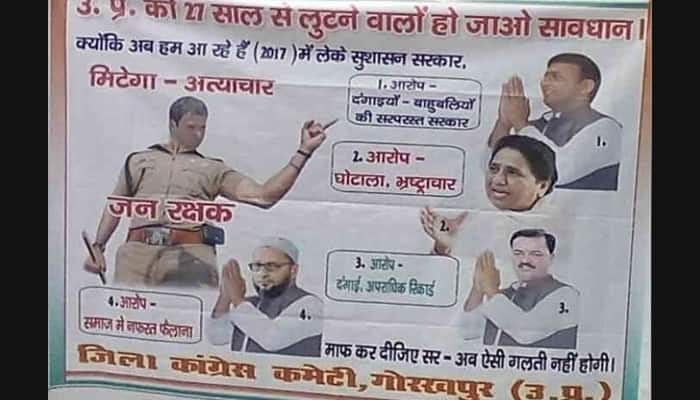 Struggling to arrest its falling fortunes in electorally important Uttar Pradesh, Congress may carry out a massive rejig of its state leadership next fortnight and announce its Chief Ministerial candidate who in all likelihood will be a "Brahmin".
There are also views within a section of the party that a turnaround in Uttar Pradesh is possible only if either of the Gandhis--Priyanka or Rahul--takes the lead in the state polls.
However, there has been no indication from the party so far that it is inclined to field any of the two Gandhis in the Assembly polls in the state where Congress is considered to be on a weak wicket.
Poll strategist Prashant Kishor is learnt to be in favour of either of the Gandhis taking the lead in the state election and, if they do not agree, a well-known Brahmin face should be projected as the chief ministerial candidate.