New Delhi: The newly-released trailer of 'Dhadak' starring Janhvi Kapoor and Ishaan Khattar has become the talk of the town and has left everyone impressed. The trailer has also received thumbs up from Janhvi's step-sister Anshula Kapoor. 
Anshula, who is currently holidaying in London with brother Parineeti Chopra, shared the movie poster of 'Dhadak' on her Instagram and wrote, "Aaaaaaah My cutie @janhvikapoor's trailer is out now for the world to see and I cannot be more proud, or more excited! My mind has officially been blown by both my Jaanu & @ishaan95! How phenomenal is the trailer and how fantastic are both of them?? Hit it out of the park and how! 20th July, why you so far away? Super duper excited for this one!! (link in my bio)."
Janhvi was quick to reciprocate her gesture of love as he replied to Anshula's post saying, "I Love You."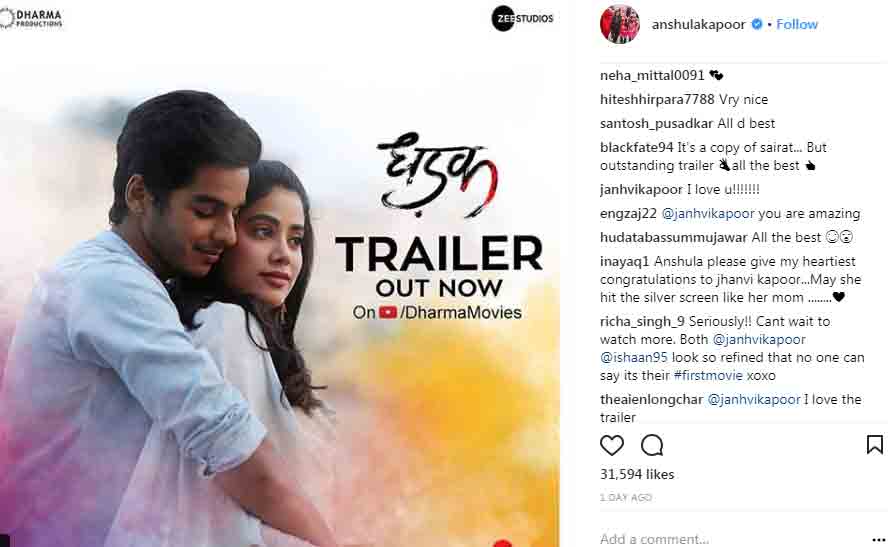 Arjun, who is currently busy shooting with Parineeti Chopra for 'Namastey London', too showed his brotherly love for Janhvi as he shared a post on his Instagram account. "Tomorrow you will be part of the audience forever @janhvikapoor cause your trailer comes out... Firstly, sorry I'm not there in mumbai but I'm by your side, don't worry. I just wanted you to know this profession is amazing if you work hard, be honest, learn to take the accolades with the brickbats, respect opinions, yet follow ur own path & instinct. It's not gonna be easy but I know your are ready for all the madness that will ensue. All the best for #dhadak! I'm certain my friends @shashankkhaitan & @karanjohar have presented you & @ishaan95 as the modern Romeo & Juliet with elan !!!"
It is to be noted that the trailer launch of 'Dhadak' was attended by entire Kapoor clan including Boney Kapoor, Anil Kapoor, Sanjay Kapoor, Khushi, Harshvardhan Kapoor, Maheep Kapoor, Shanaya Kapoor and Jahaan Kapoor.