New Delhi: Punjabi singer Parmish Verma was shot by some unidentified assailants in Mohali on Friday. Although the singer is out of danger, a Facebook user claiming to be gangster Dilpreet Singh has put up another post on Facebook threatening to kill Parmish. 
Taking to Facebook, Gangster Dilpreet Singh wrote, "Police please don't arrest anyone in Parmish Verma shooting case. There were four people involved in this. Please don't arrest any random person. This was just a trailer of 50 gunshots. There will be a time when 500 shots will be fired from the gun. Don't link this incident to any religion. Parmish himself will come in front of the media and reveal the reason why he was shot at."
Here's the full post written in Punjabi: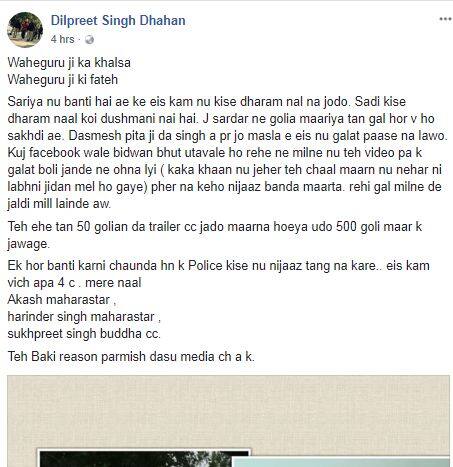 Earlier, Dilpreet uploaded a picture of Parmish and captioned it, "Mein dilpreet singh dhahan sariya nu dasna chaunda k ajj parmish verma de goliya bazian apa mariya." (I, Dilpreet Singh Dhahan, want to tell everyone that I am the one who shot Parmish Verma). Dilpreet has also drawn a red cross on Parmish's picture.
According to a PTI report Mohali Senior Superintendent of Police Kuldeep Chahal said., "Some unidentified persons fired shots at Parmish last night at Sector 91 in Mohali when he was returning home. A bullet hit his leg."
Singer Parmish Verma rose to fame with his song 'Gaal Ni Kadni' which has over 118 million views on YouTube.