New Delhi: Actor Kunal Kemmu has been issued e-challan by Mumbai Police for violating traffic norms by riding a two-wheeler without a helmet. 
The actor was issued a fine after a Mumbai resident shared a photo of the actor without a helmet on the social media while asking the city police to take action on the matter. Apparently, he is the second actor from the film fraternity to have been served a notice based on the online complaint. In November last year, actor Varun Dhawan was served a notice after he was snapped leaning out of his car's window at a traffic signal to get a selfie with a fan. 
Then, the police had issued a challan to the 'Judwaa 2' actor while warning him against repeating the offence.
Meanwhile, responding to the tweet, the Mumbai Police said they would challan the actor. "@kunalkemmu You love bikes, we love every citizen's safety. And we wish a regret could avert mishaps! Hope next time the realisation won't be an afterthought! An e-challan has been dispatched," it said on its official Twitter handle.
.@anilmanu1991 brought to our notice by your tweet, an e-challan Number MTPCHC1800225825 has been issued to the concerned pic.twitter.com/r1ui4krsQ9

— Mumbai Police (@MumbaiPolice) March 21, 2018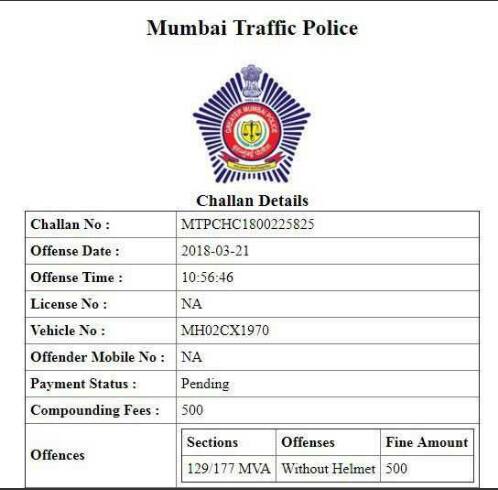 On the other hand, the actor issued an apology on the social media and said that it's very embarrassing (to break the traffic law).
"I have seen this picture out there and honestly it's very embarrassing given I love bikes and ride regularly and always with a helmet and some more gear but whether it's a long ride or just the next building a helmet should always be worn.. apologies I don't want to set the wrong example!," the actor posted on Instagram along with sharing the photo. 
A couple of years back, the Bombay High Court had made it compulsory for bike riders and those riding pillion to wear a helmet.