Mumbai: The news of the untimely demise of Kavi Kumar Azad, popular as Dr.Hansraj Hathi of Indian sitcom 'Taarak Mehta Ka Ooltah Chashmah' came as a rude shock to viewers, fans and his co-stars.
He breathed his last on Monday after suffering a massive cardiac arrest. He was 46.
Azad had respiratory problems, reports suggest.
His co-stars Disha Vakani (who plays Daya Ben), MumMun Dutta, former co-star Bhavya Gandhi took to social media to express shock and share their grief over their beloved Dr Hathi's death.
Disha expressed shock by updating her Instagram status. She wrote: "Can't believe it's true. RIP (sic)."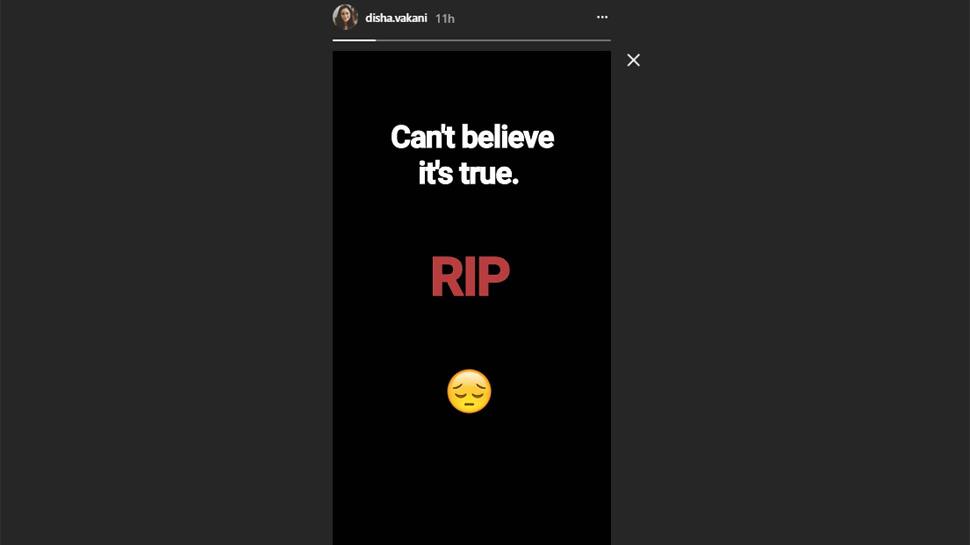 Munmun Dutta, who plays Babita in the show, posted a heartfelt note.
It read: "THIS IS HOW WE REMEMBER YOU and WILL ALWAYS REMEMBER YOU.
.
.One of the cleanest soul, the most jovial, happy person who would greet everyone with a huge smile in the morning. We could hear you sing from a distance and would know that you have arrived . Someone , who was just unbelievably cute with the way he spoke and a genuine well wisher. Always a huge smile on his face no matter what. .
.
Words fail to describe what we feel today. There was not a single person on the set today who didn't have tears in their eyes. We didn't know we would be in for such a RUDE SHOCK today. Still trying to come to terms with the loss especially when we all just shot a scene together yesterday. 
Remembering the last BANTER that we all had while shooting.. .
.
We only, only AND only have sweet memories of you that brings a smile on our faces even on this grey day . Too many cute conversations, teasing and laughter.
.
I HOPE YOU REST IN PEACE Hathi bhai 
.
You left for your heavenly abode TODAY. 
.
You're one of the nicest soul one could have known in their life. I was lucky to know you and forever thankful to you for sharing your special sindhi parathas with me. .
Too numb and shocked . .
#restinpeace #RIP #TMKOC (sic)."
Former co-star Bhavya Gandhi, who played Tappu in the show, wrote:
Jennifer Mistry Bansiwal, who essays the role of  Roshan Sodhi in the show too posted a heartfelt message. She wrote:
"Can't imagine how unpredictable life is... every morning on shoot i m used to hear one fixed dialogue from Azad - Jenny, aaj khane me Kya layi? 
After i tell him, he would say-mai khaunga... Won't be able to hear that again... Really sad...Azad was such a pure soul, very childlike, genuine, no tantrums, nothing fake, always smiling no matter what and truly warm hearted ...He was same with everyone- always cheerful, a gem of the heart... We shared a very different off screen chemistry... sharing everything with each other...Can't imagine you left so early... Will miss you sooooo much Azad...Rip #bollywood #jennifermistrybansiwal #sabtv #tmkoc #roshan #roshanbhabhi #roshansodhi #taarakmehtamaooltahchashmah #actor #jennifermistry #azadkavi #dr.hathi (sic)."
Tanuj Mahashabde, who plays Krishnan Subramaniam Iyer in the show wrote: "श्री राम जय राम जयजय राम
आज़ाद भाई ये सही बात नही है जो हमको छोड़ कर चले गए ।श्री राम जय राम जयजय राम
आज़ाद भाई ये सही बात नही है जो हमको छोड़ कर चले गए । (sic)."
The official Twitter handle of the show posted: "Team #TMKOC & #NeelaTeleFilms regrets to inform about the loss of ur beloved Kavi Kumar Azaad aka @DrHaathi_TMKOC. He was a talented actor with an optimistic personality who never missed a chance to make people smile. Thank you for all the fun-filled laughter memories #RIPDrHathi (sic)."
(With IANS inputs)