So that's it from here today. Catch all the action tomorrow again! India finish Day 8 at 11th spot with 28 medals in all! They now have 3 golds, 5 silvers and 20 bronze.
India get another medal as Sudha Singh takes bronze after finishing fourth. So two medals in athletics.
DAY 8 REPORT   FULL COVERAGE   GALLERY
18:55 IST: Athletics: Arokia Rajiv qualifies for final after finishing third in men's 400m semis.
Reports are coming in that, Ruth Jibet from Bahrain has been disqualified from the Women's 3000m Steeplechase. In that case, she will not win the gold. So Lalita Babar may get the silver with Sudha Singh climbing to the third place for the bronze.
18:40 IST: Mandeep Jhangra is the fifth boxer to go into the quarters as he beats Liu Wei of China 2-1 in the Men's 69kg.
18:37 IST: Boxing: All even now between Jhangra and Wei with the Indian winning the second round.
18:34 IST: Boxing: First round goes to Wei in the red corner, 1 judge ruling in favour of Jhangra but the other 2 in favour of the Chinese.
18:26 IST: Boxing: Mandeep Jhangra in action vs Liu Wei in the Men's 69 kg category.
18:24 IST: Athletics: Kunhu Muhammed also qualifed for 400m final as fastest loser.
18:22 IST: Athletics: Rajeev Arokia finishes 3rd in 2nd Semifinal and qualified for Men's 400 final.
18:16 IST: Athletics: Kunhu Muhammed clocks PB(46.08) for 4th;misses out on automatic qualification by 0.02 in 400m Semifinal.
GOLF: Meanwhile, the Indian men's golf team lies tied fourth after the third round the Dream Park Country Club.
The team comprising Manu Gandas, Udayan Mane, Feroz Garewal and Samarth Dwivedi shot a combined 210, taking its overall score to 628. Chinese Taipei leads with a score of 613.
In the women's event, India is in eighth spot with a score of 438 after three rounds. Gurbani Singh Gurbani is the highest individually ranked Indian at joint 14th with a three-round total of 217.
Lalita Babar clocked 9:35.37 to set a new national record.
18:09 IST: Athletics: Medal Alert- Lalita Babar gets another bronze for India, this time the first of athletics in 2014 Sudha Singh finishing 4th.
18:00 IST: Athletics: The Bahrainian pulling way ahead of the rest but the 2 Indians looking good in 2nd and 3rd
17:58 IST: Athletics: Sudha Singh (current Games record holder in the event) and Lalita Babar are both in action in Women's 3000m Steeplechase final
17:49 IST: Athletics: Kheta Ram set a new personal best of 13:37.40 to finish 7th in Men's 5000m.
17:44 IST: Athletics: men's 400m semis and women's 3000m Steeplechase final coming up.
17:43 IST: Athletics: Suresh Kumar and Kheta Ram are in action in the Men's 5000m final.
17:35 IST: Athletics: Chandrodaya Narayan Singh is 8th in Men's Hammer Throw with a best effort of 66.98.
Meanwhile, Indians assured of 5 Tennis medals at Incheon. Good way to go!
17:17 IST: Athletics: Mandeep Kaur & Poovamma Raju now through to finals of women 400m event.
Two Bronze medals added by the Indians at Incheon with both coming from wrestling. Vinesh in 48kg category and Geetika in 63kg section!
17:13 IST: Wrestling: MEDAL ALERT: Geetika rounds off her campaign winning bronze in the women's 63kg, beating Ti Hien of Vietnam 5-0.
17:10 IST: Athletics: Mandeep Kaur finishes 2nd in Heat 4 of Women's 400m and qualifies for the final.
17:08 IST: Athletics: Mandeep Kaur in action in Heat 4 of the Women's 400m.
17:02 IST: Athletics: Poovamma Raju wins Heat 3 in the women's 400m and qualifies for the final
16:59 IST: Athletics: Poovamma Raju in action for the Women's 400m Heat 2
16:58 IST: Tennis: Sania/Saketh win their Mixed Doubles QF in 2 sets vs South Korea to qualify for the Semis.
16:49 IST: Wrestling: MEDAL ALERT: Vinesh with a dominant performance vs the Mongolian Narangerel to win the bronze medal in Women's 48 kg.
16:48 IST: Wrestling: Barely halfway through the bout and Vinesh is already 8 points up in the bronze medal match!
16:42 IST: Athletics: Narayan Singh is currently in 8th place in the Men's Hammer Throw final with a best of 66.98m
16:39 IST: Athletics: Preeja Sreedharan finished 7th in the Women's 10,000m final
16:32 IST: Tennis: The Koreans break back with an unforced error on Sania's serve to bring the 2nd set to four all.
16:30 IST: Boxing: Mandeep Jhangra will face LIU Wei of China in the men's 69kg category
16:20 IST: Tennis: Sania/Saketh break the South Koreans in the 2nd set and the score now stands at 3-2 with the Indians to serve
16:12 IST: Tennis: Sania/Saketh take the 1st set 6-3 vs their Korean opponents in the Mixed Doubles Quarters.
16:10 IST: Boxing: Gaurav Bidhuri beats his Nepalese opponent 3-0 to move into the QFs of the Men's 52 kg category.
15:48 IST: Indian men's squash team wins gold
India beat Malaysia 2-0 in the Men's team squash final. Saurav Ghosal won the second match 6-11 11-7 11-6 12-14 11-9 against Ong Beng Hee to seal the deal. This is India's first squash gold
15:28 IST: Ong Beng Hee wins a thrilling game four against Ghosal. We are 2-2 in match two. India lead the tie 1-0.
15:08 IST: Saurav Ghosal won game three 11-6 against Malaysian Ong Beng Hee. If he wins the game four, India will get the gold medal in Men's team squash.
14:58 IST: India beat China 2-0 in Men's hockey match to enter the semi-final.
14:55 IST: Saurav Ghosal levels it up against Malaysian Ong Beng Hee to win the second game. The match is now tied 1-1. India lead the tie 1-0.
14:53 IST: India assured of another medal as Sanam Singh/Saketh are through to semi-final of Men's doubles tennis.
14:38 IST: Ong Beng Hee takes the first game 11-6 against Saurav Ghosal to take a 1-0 lead in the match of the Men's team squash final. India lead the tie 1-0.
14:30 IST: India 2-0 China at the end of third quarter in Men's hockey match courtesy goals from Raghunath and Birendra Lakra.
14:23 IST: Boxer Pooja Rani beat Mongolian Undram Erdenesoyol to reach quarter-finals in Women's 75kg category.
14:20 IST: India still cannot find a way past China in the Men's hockey match. India need only a draw to qualify for the semi-finals.
14:05 IST: India lead 1-0 versus Malaysia in the squash gold medal match in the Men's team event after Harinder Sandhu won 11-8 11-6 8-11 11-4.
13:46 IST: Yuki Bhambri/Divij Sharan beat Chinese Taipe's Yeu Tzuoo Wang/Hsin Han Lee 7-5 7-6 and moved into Men's Doubles tennis semi-final. India now assured of at least yet another bronze medal.
13:44 IST: In the squash gold medal men's team match, Harinder Sandhu took a 2-0 lead against Mohammad Azlan. He is one game away from putting India 1-0 ahead in the tie.
13:41 IST: Vinesh Phogat and Geetika Jakhar will be in contention for a bronze medal in their respective categories, 16:30 IST and 16:50 IST respectively.
13:03 IST: In boxing, Sarita Devi beat Chungson of DPRK to move into the quarter-final in 57-60kg category.
12:58 IST: Abhishek Verma failed to bag a double gold as he lost 141-145 to Iran's Esmail Ebadi in the Compound Individual Category. He was part of the team that won a gold in the team event earlier in the day.
12:33 IST: Geetika Jakhar lost to China's Xiluo Zhuoma in the Women's Freestyle 63kg wrestling semi-final.
12:28 IST: Medalist from left, China's Zhu Qinan silver, Cao Yifei gold and India's Chain Singh pose for a photo after the men's 50 pattern qualification: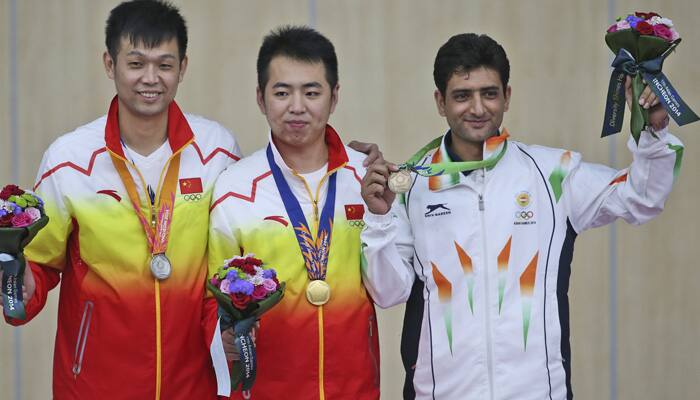 12:23 IST: Wrestler Vinesh Phogat lost to Japan's Eri Tosaka in Women's Freestyle 48kg semi-final.
12:21 IST: Trisha Deb wins bronze in women's compound archery
Trisha Deb claimed the bronze medal in the women's compound archery individual event of the 17th Asian Games at the Gyeyang Asiad Archery Field here Saturday. Trisha, who earlier in the day won bronze in the team compound event, defeated Chinese Taipei's Joun Huang 138-134, to bag another medal.Trisha Deb claimed the bronze medal in the women's compound archery individual event of the 17th Asian Games at the Gyeyang Asiad Archery Field here Saturday. Trisha, who earlier in the day won bronze in the team compound event, defeated Chinese Taipei's Joun Huang 138-134, to bag another medal.
12:08 IST: Abhshek Verma's gold medal match against Iran's Esmail Ebadi in the Compound Individual Category is scheduled for 12:45 IST today.
12:01 IST: Indian women's squash team settles for silver
The Indian women's squash team settled for the silver medal after losing to defending champions Malaysia 0-2 in the final of the 17th Asian Games at the Yeorumul Squash Courts here Saturday. Anaka Alankamony and Dipika Pallikal lost their respective matches in straight games to Malaysian players as India had to be content with finishing second.
11:58 IST: In Volleyball, India lost 11-25 12-25 10-25 to China in Women's quarter-final match.
11:41 IST: In Archery, Abhishek Verma beat Malayia's Muhammad Zaki Mahazan 143-135 to enter Men's Compound Individual final. Abhishek was also part of the gold medal winning Men's compound archery team earlier today. Incredible show by him!
11:39 IST: Sania Mirza/Prarthana Thombare beat Plipuech/Lertpitaksinhai 6-1 7-6 to enter Women's Doubles Semi-Final. India is now assured of at least a bronze medal in this event.
11:35 IST: Geetika Jakhar beat Thailand's Jaratrawee Autnun and advanced to the semi-final of Women's Freestyle 63kg category wrestling event.
11:31 IST: Mary Kom won her Round of 16 bout against Koream opponent Kim Yeji  in the Women's 51kg category. She advanced to the quarter-final with that win.
11:19 IST: In squash, Delia Odette beats Anaka Alankamony in three straight games to give Malaysia the lead against India in the Women's team gold medal match.
10:31 IST: Chain Singh bags a bronze in the Men's 50m Rifle 3 Positions event
Chain Singh won a bronze medal in 50m Rifle 3 Positions Men's Finals, even as India narrowly missed out on a third-place finish in men's team event of the Asian Games here on Friday.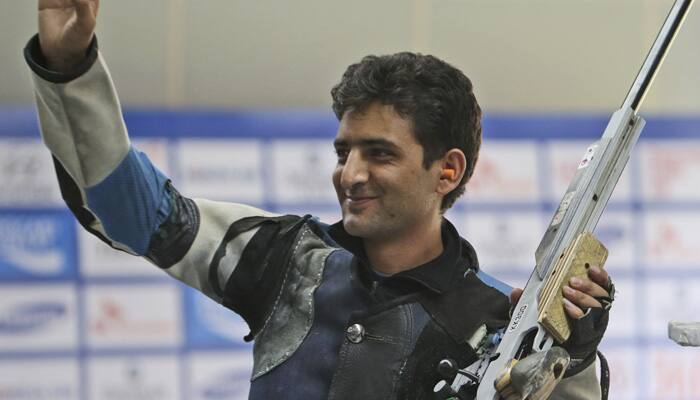 Singh shot a total of 441.7 points to finish behind two Chinese shooters -- Cao Yifei and Zhu Qinan -- who bagged the first and second positions with 455.5 and 455.2 points to their credit, respectively.
10:24 IST: Yuki Bhambri beat his Thai opponent Danai Udomchoke 6-3 6-2 to reach the men's singles tennis semi-final. He is now assured of a bronze medal.
10:19 IST: Geetika Jakhar beat Yekaterina Larionova to enter the quarter final in Women's Freestyle 63kg category wrestling. She won a silver medalist at the 2014 Commonwealth Games in the same category.
Here is another image on this historic day for Indian sport. From left, gold medal winners India's team members Sandeep Kumar, Raijat Chauhan and Abhishek Verma celebrate after winning the compound men's team archery match: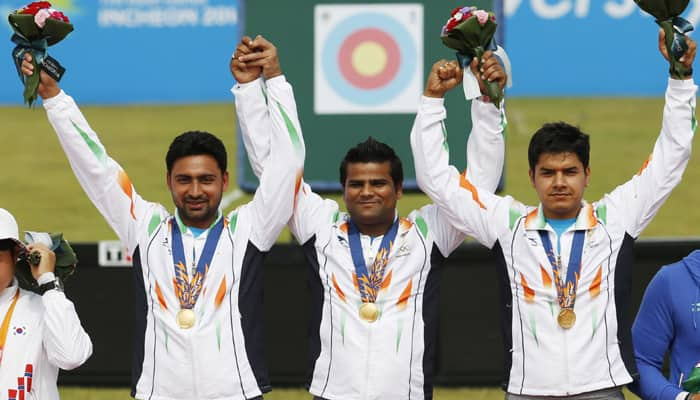 10:04 IST: Vinesh Phogat beat Park Yongmi in Women's Freestyle 48kg wrestling. She entered the quarter-final with that win. Phogat won a gold medal at the 2014 Commonwealth Games in the same category.
09:25 IST: Manika Batra beat Malaysia's Ying Ho to give Indian women's team a 2-0 lead against Malaysia in a Group A table tennis tie.
09:12 IST: India lead 1-0 against Kuwait in a Group B Men's team table tennis match. Soumyajit Ghosh won the first match 11-1 11-5 5-11 11-6.
09:03 IST: Paulomi Ghatak beat Malaysia's Lee Wei Beh 11-9 15-17 11-8 11-5 and gave India a 1-0 lead in the Group A team table tennis match.
08:56 IST: India finish in fourth position in Men's 50m Rifle 3 Positions Team event, thereby missing out on a bronze medal by one point.
Indian men's compound team wins gold; women settle for bronze
India earned their second gold medal in the 17th Asian Games after the men's compound archery team bagged the yellow metal by getting the better of South Korea, here on Saturday. The Indian women's compound team, meanwhile, settled for a bronze after beating Iran in the third-place play-off.
The Indian men's trio of Abhishek Verma, Rajat Chauhan and Sandeep Kumar eked out a narrow 227-225 victory over the hosts to give the country their second gold medal in eight days.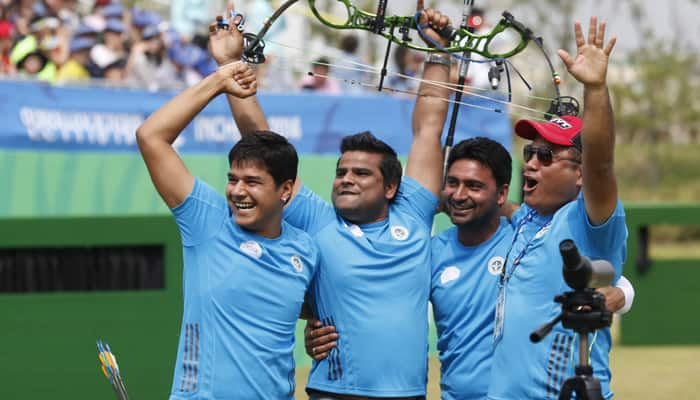 In a closely-fought contest today, the South Korean team of Choi Yong-hee, Min Li-hong and Yang Young-ho fell short by just two points, even as the Indians held on to their nerves to win an all-important battle.
Indian men had 12 10s as compared to 13 by their opponents.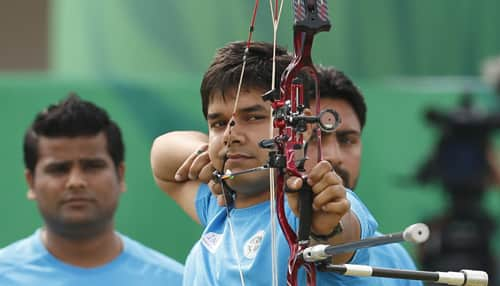 Earlier, the Indian women's team consisting of Trisha Deb, Purvasha Shende and Surekha Jyothi shot 224, while Sakineh Ghasempour, Maryam Ranjbarsari and Shabnam Sarlak of Iran could earn a total of 217 points.
Both Indian and Iranian girls had a total of nine 10's each at the Gyeyang Asiad Archery Field here.
Indian girls had earlier lost the semi-finals by a slim margin of 224-226 against Chinese Taipei on Thursday to set up a bronze-medal play-off with Iran.​
Day 7 roundup
The men's pistol team clinched a silver medal, while Sandeep Sejwal scooped a rare bronze in swimming but India slipped to the 16th position in the overall standings with a tally of 17 medals on the seventh day of competitions.
The pistol team, spearheaded by London Olympic Games silver medallist Vijay Kumar and including Pemba Tamang and Gurpreet Singh, clinched the second place with a total score of 1740, two behind gold medallists China, in the 25m centre fire pistol competition.
The 25-year-old Sejwal provided some much-needed boost to the Indian swimming contingent by grabbing a bronze in the 50m breaststroke event after topping his heats.
There was some more good news from the squash arena after both the men's and women's teams were assured of at least silver medals after making the finals of their respective competitions.
On the whole, it again turned out to be a day of mixed fortunes for the Indian contingent which saw its star shuttlers Saina Nehwal and Parupalli Kashyap being knocked out of the singles competition along with the archers, who bowed out of the individual recurve event.
The women's hockey team kept themselves in medal contention with a 6-1 win over Malaysia.
With the addition of two more medals, India dropped a rung to 16th in the tally with a haul of one gold, two silver and 14 bronze medal so far. China continued to be at the top with 172 medals (88-47-37), followed by South Korea (31-37-35) and Japan (29-39-34).
The day started rather well with the shooters delivering a silver. In fact, had the men's trio equalled the Chinese, they would have secured a gold as their number of inner tens was much higher than their formidable rivals.
Vijay took part here despite being troubled by cervical spondylitis for which he is set to undergo surgery soon after returning home.
It was the eighth medal that the shooters have won from the Games -- one gold, one silver and six bronze medals -- all but two of them coming in team events.
Barring Jitu Rai, only Abhinav Bindra has managed to win an individual medal in Incheon, an indication of how competitive shooting has been.
The Indian women's team, comprising Lajja Gauswami,
44-year-old Anjali Bhagwat and Tejaswini Muley finished sixth in the 50m Rifle 3 Positions Team Finals.
Indian squash players, however, continued their splendid showing. If the women's team comprising Joshna Chinappa, Dipika Pallikal and Anaka Alankamony outplayed their South Korean opponents 2-0 then Mahesh Mangaonkar, Saurav Ghosal and Harinder Pal Singh Sandhu also eased past Kuwait 2-0.
Ghosal has already added a historic silver to the medal list -- a first in the Asian Games squash -- in the men's singles event, though the Kolkata-born player was disappointed to lose the gold to Kuwait's Abdullah Almezayen.
Dipika, on the other hand, has won a bronze medal in the women's singles event, also a first for Indian squash.
In the swimming pool, Sejwal topped his heats by clocking 28.25s before holding on to the third spot in the final race with a timing of 28.26s.
However, in what came as a shock for the Indian fans, Saina and Kashyap fell by the wayside after losing their respective women's and men's singles matches.
Commonwealth Games gold medallist Kashyap failed to pass the Asiad test as he lost to World No.1 Lee Chong Wei 0-2 in the pre-quarterfinals at the Gyeyang Gymnasium, while Saina fizzled out after winning the first game against China's Yihan Wang 21-18 9-21 7-21 in her quarterfinal encounter.
India's K Srikanth also lost out in the men's singles pre-quarterfinals after losing a hard-fought battle against Wanho Son of South Korea 2-1 in an hour and seven minutes.
It was heartbreak for India's mixed doubles pair of B Sumeeth Reddy and Manu Attri, who lost a hard fought battle in the quarterfinals against Singapore duo of Danny Bawa Chrisnanta and Yu Yan Vanessa Neo 21-18 21-23 21-15 in under 50 minutes.
In the men's doubles quarterfinals, Attri and Sumeeth Reddy were outplayed by the Indonesian pair of Mohammad Ahsan and Hendra Setiawan 21-12 21-19 in 32 minutes.
In tennis, Sanam Singh recovered from a sluggish start to move to the men's singles quarterfinals and later combined with Saketh Myneni to seal a place in the men's doubles last-eight as well.
Ranked just inside top-400 at 397, Sanam beat 190th ranked Chung, 7-5 6-1 the third round, which lasted one hour and 24 minutes at Yeorumul Tennis Courts.
Also advancing to the men's singles last-eight was Yuki Bhambri, who defeated Indonesia's Christopher Rungkat 6-3 6-3 in one hour and 30 minutes in his third round contest.
A similar dominating performance was dished out by fifth seeds Sania Mirza and Prarthana Thombare in the women's doubles second round as they blanked Mongolia's Bolor Enkhbayar and Gotov Dulguunjargal 6-0 6-0 in just 35 minutes.
However, Ankita Raina had a disappointing outing as she crashed out of women's singles with a 2-6 6-4 1-6 defeat against fourth seed Japanese Eri Hozumi in the third round, lasting one hour and 55 minutes.
With Ankita's defeat, India's challenge has ended in women's singles. Ankita, though, is still in fray in the mixed doubles with Divij Sharan.
In hockey, the Indian women's team produced an inspired performance to thrash Malaysia 6-1 to qualify for the semi-finals.
For India, Rani Rampal (4th minute, 20th) and Jaspreet Kaur (9th, 39th) score two goals each, while Namita Toppo (17th) and Vandana Kataria (50th) were the other goal getters.
Malaysia's lone goal was scored by skipper Nadia Abdul Rahman from a penalty corner.
Indian eves in all likelihood will face last edition's silver medallist Korea in the semi-finals on Sunday as the hosts are presently leading Pool B and are expected to finish as the toppers.
On the golf course, Udayan Mane tamed the windy conditions to put himself in medal contention with a superb six-under 66, which left him tied third at the midway stage.
Mane, one of the four players to card 66 in the second round, is eight-under 136 and three shots behind the new leader local 17-year-old lad Youm Eunho.