New Delhi: The long running saga on Indian Premier League (IPL) spot-fixing and betting scandal will continue today with the Supreme Court (SC) resuming the hearing on the case. Keeping the suspense alive, the apex court on November 27 had adjourned the hearing till December 1.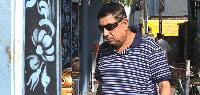 In it's last hearing on Thursday, the SC bench headed by Justice S Thakur and F M Kalifullah questioned the Board of Control for Cricket in India (BCCI) as to why IPL franchise Chennai Super Kings (CSK) shouldn't be disqualified from the IPL and asked them to act immediately on the Justice (Retd) Mukul Mudgal report.
During the hearing, the bench had observed that Narayanaswami Srinivasan, by virtue of being President-in-exile of BCCI and the CSK owner, holds two posts leading to a conflict of interest and recommended Srinivasan to relinquish one of the two posts. The court had also sought the details of the ownership of India Cements, which owns CSK.
The court also had said that BCCI elections should go ahead, but directed that all board members who are under investigation to keep away. Then, it asked the Indian board if there was any provision in its constitution to debar Srinivasan from contesting the BCCI polls in future.
Responding to the court's observations, the BCCI's counsel had asked for an external agency to be set up to hand out punishments to those found guilty by the Mudgal committee.
Spot-fixing and betting scandal in cricket surfaced in 2013 with Delhi Police arresting three Rajasthan Royals players of cash rich IPL – S Sreesanth, Ajit Chandila and Ankeet Chavan – in a midnight raid in Mumbai. Then, Mumbai police also unearthed betting links after they arrested Srinivasan's son-in-law Gurunath Meiyappan and Bollywood actor Vindu Dara Singh.
Last October, the apex court had constituted the Justice Mukul Mudgal committee to investigate the IPL spot-fixing and betting case. The three-member panel led by Justice Mudgal, a retired Punjab and Haryana High Court judge, also includes Additional Solicitor General L Nageswara Rao and senior advocate Nilay Dutta in the committee.
And on February 10 this year, the committee submitted its first report to the court after conducting a four-month long probe. It is learnt that cricketers, board officials, cops, lawyers and even journalists had deposed before the panel and their depositions were recorded during the probe.
In the follow up, the court had asked the committee to continue its investigation of the persons named in the sealed envelope and the committee was also given greater powers to effectively conduct its probe.
Then, the committee submitted its final report to the apex court on November 3, thus allowing the court to proceed with the final phase of hearing.